Dell sees the channel light while Microsoft is cast as open source redeemer
To subscribe to Channel Register's weekly newsletter - seven days of channel news in a single hit - click here.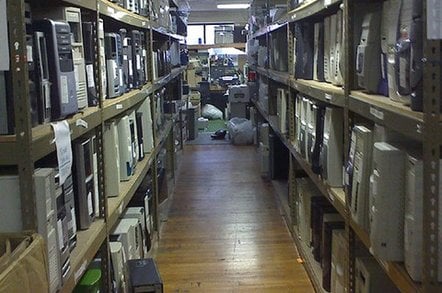 It's finally happened. Dell has publicly stated what we in the channel have known all along. You can't live without resellers and partners.
Not long after his second coming at the company and after many years of outright hostility to the indirect channel, CEO Michael Dell has undergone a conversion, telling CRN US: "There are certainly folks out there who don't want to buy direct, so now those customers will have a chance to have Dell product as well." Assuming they want to buy it, of course.
The $6bn ad sale
The other big news was Microsoft's decision to splurge $6bn on buying Seattle-based online advertising group aQuantive. Microsoft's bid demonstrated its desire to compete against Google, which recently bought Double Click with an 85 per cent premium on aQuantive's closing price. It's the biggest acquisition in Microsoft's history.
Microsoft to be open source redeemer?
The war of words between Microsoft and the open source software world intensified when Free Software Foundation lawyer Eben Moglen suggested Novell's deal with the Windows vendor could indemnify all open source users against Microsoft's patents. Moglen argued that because the vouchers Microsoft has for SUSE have no expiry date, if a customer redeems one with Novell after GPLv3 comes into effect, it will automatically extend Microsoft's patent licence to "all recipients of the covered work and works based on it".
Power to the dealers
Elsewhere, dealers in Gujarat, India, held a one day strike to protest against anti-piracy raids by Microsoft. About 350 dealers joined the strike. Six PC dealers in the state recently received notices from the software giant demanding a payment of nearly $5,000 for allegedly selling pirated copies of Windows.
IBM has got the power - customers haven't
IBM released benchmark figures for its Power6 processor which it claimed showed it had three times the performance per core of HP's top Itanium-based Superdome server. A revamped version of IBM's p570 system can hold as many as eight 4.7GHz dual-core Power6 chips. Sadly for customers, it won't be available to buy until November.
IBM gains server advantage
In the same week, it was revealed that IBM had held on to top spot in worldwide server revenue for the first quarter, just ahead of HP in second place.
IBM had server revenues of $3.83bn and 29.8 per cent market share compared to HP's 28.8 per cent market share and $3.64bn revenues. Both were well ahead of third placed Dell, which reported server revenues of $1.44bn and 11.2 per cent market share. Sun was in fourth place and Fujitsu fifth.
IBM's products were much higher value than HP or Dell's. Although first in terms of revenues, IBM shipped less than half of HP's 634,000 units and was 150,000 units below Dell.
Intel no Flash in the pan
Intel has followed its great rival AMD by setting up a separate flash memory business. The chip giant signed an agreement to create an independent flash memory company based in Geneva in a joint venture with STMicroelectronics. The move to create a separate flash business follows years of struggles at Intel to turn consistent memory profits.
Intel classmate steals OLPC's seat
Meanwhile, Intel was getting it in the neck from Nicholas Negroponte, the man behind the One Laptop Per Child (OLPC) project. Negroponte said Intel should be "ashamed of itself" for selling its competing low-cost kid's computer "Classmate" for less than cost, undercutting his own scheme and hurting his plans "enormously". Negroponte claimed he had been caught in the middle of the war between Intel and AMD because the OLPC machine uses an AMD chip.
Cisco eats another company
Another week, another acquisition for Cisco which has snapped up IP-based video surveillance company BroadWare Technologies, which makes software for web-based monitoring, management, recording and storage of audio and video on the internet.
BroadWare's products and 38 employees will be merged into Cisco's Emerging Market Technologies Group. The company's technology helps monitor NASA's Goldstone antenna in Southern California's Mojave Desert which was used to track the Mars Pathfinder.
RM Group puts European building blocks in place with DACTA
On the subject of acquisitions, RM Group has bought its way into mainland Europe by purchasing DACTA, the exclusive distributor for LEGO Education in the UK and 16 other European countries, for just under £4m. DACTA manages a pan-European network of resellers of branded educational resources. It will be managed as a separate entity within the RM Group with its own product development, sales & marketing, and distribution activities. RM Group will provide financial and operational support.
Localis looking for acquisitions
Meanwhile, reseller Logicalis has revealed it is on the lookout for a UK managed services opportunity and is considering expansion in developing markets in central Europe and Asia. Sales for the year ending 28 February hit $696m, and chief executive Ian Cook said he would be disappointed if the firm did not break the $1bn barrier next time round.
Disaster can be good for you
Staying with the channel, Phoenix IT Group revealed revenues for the year ending 31 March were up 16.3 per cent, partly on the back of Servo Computer Services, the SME IT services and product sales business that Phoenix acquired in November 2006.
Revenues at the Network Disaster Recovery Limited business continuity arm the group acquired in 2005, which is focused on SMEs, increased 17.5 per cent.
MPs complain about lack of support
Speaking of disasters, MPs were scathing of the IT support they received from the Parliamentary Information and Communications Technology Department (PICT). Former minister of prisons and immigration Ann Widdecombe said she found it difficult to understand "how the 158 staff in the PICT Service can fail to deliver a more helpful, efficient, and generally trustworthy service".
She complained that if Parliament was a company "it would not have the technological finesse to compete with the Third World". Sounds like PICT is ideally suited to the people it supports.
To Russia with money
Time for the usual security stuff now. First out of the blocks are the three smartphone Trojans that send out premium-rate SMS messages to numbers in Russia from infected Symbian S60 devices. The messages have international codes so they can reach their destination wherever you are. Now that's what we call roaming.
Bunny bugs OpenOffice users
Meanwhile, a bunch of jokers have developed a proof-of-concept cross-platform worm targeted at OpenOffice users that can infect Windows, Mac, and Linux computers. Known as BadBunny, users who open an OpenOffice Draw file called badbunny.odg are confronted with a pornographic jpg image of a man dressed as a rabbit doing what bunnies do best with a scantily clad woman in the woods.
Things we had to leave out
Google is banning adverts for essay writing services from next month because of fears "plagarism is threatening the integrity of university degrees". Funny, we always thought it was courses in Beckham studies that did that.
Larry Ellison's hopes of lifting sailing's America's Cup have foundered and sunk after his BMW Oracle Racing Team lost 5-1 to the Italian Luna Rossa Challenge.
Viagra-taking hamsters cope better with jet lag than those who don't. Maybe they're too busy behaving like bunnies to notice the time shift.
On the subject of air travel, a curry exploded in mid-air after an air hostess put it in the microwave. The British Airways Jumbo jet needed repairs that cost £20,000. Thank God she didn't eat it!
The garage where Bill Hewlett and Dave Packard founded Hewlett-Packard in 1939 has become a nationally certified landmark in the US. Parking could become tougher in California if they ever get around to certifying all the garages that gave birth to computer companies.
Ashes regained
And we finish with some good news. Unlike the England cricket team who lost theirs, the loved ones of James Doohan, the actor who played Scotty in Star Trek, have managed to recover his ashes.
Readers may recall seven grams of Doohan's ashes were sent into suborbital space as part of a memorial package, but got lost on re-entry in the New Mexico mountains three weeks ago. The Vulcans have denied any involvement in the temporary disappearance of Scotty's ashes. ®