Sharp Aquos LC32RD2E 32in LCD TV
Exemplary?
The LC32RD2E is also billed as having a quality audio set-up and it does have some useful audio options. The user is able to turn the picture off and just have audio - great for listening to the radio over Sky or Freeview. There is also an option to set the volume at a required level and the TV will automatically adjust each feed to match that level.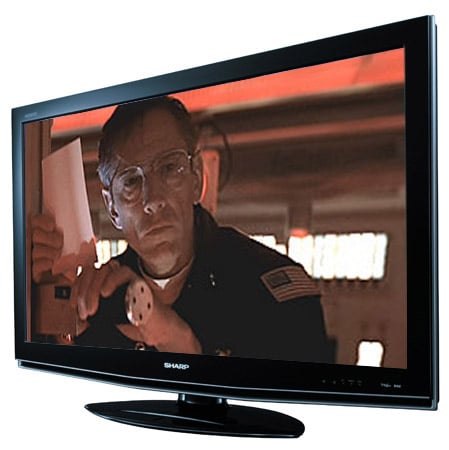 AC/DC Live at Donington is a DVD that can test even a decent 5.1-channel audio system. To be honest, we were a little disappointed, as there wasn't much real bass to the sound and it all came across as a little tame. However, providing the ability to adjust not only the picture, but the sound, Sharp provides a way around the problem. A big dose of bass level later and a switch to the "surround mode" really bought things to life, and the sound bounced along to the thumping drums and Angus Young's frenetic guitar. We wouldn't say that the surround mode actually made the sound feel like it was surrounding the viewer, but it definitely makes the sound much fatter and more detailed.
For connections, you've got pretty much everything you could expect on a TV this size. Two each of Scarts and HDMI, four audio output ports, s-video, an RS232C port and an analogue RGB. All the unit's connections are hidden behind a handy removable panel with a small opening at the bottom to allow the cables to flow out and to tidy them up. There's even an extra video port and audio ports located away from the main connection panel for faster access.
Verdict
A great little set, Sharp's LC32RD2E LCD TV punches above its screen size with a picture performance that shows how far LCDs had come in overcoming some of the technology's flaws. An intuitive control suite and impressive levels of connectivity partner genuinely impressive picture performance. Even a re-run of the Catherine Hepburn, Carry Grant, Jimmy Stuart classic The Philadelphia Story made in 1940 had new levels of reality and depth breathed into it.

Sharp Aquos LC32RD2E 32in LCD TV
This TV punches above its screen size with a picture performance that shows how good LCDs can be...
Price:
£999/$1,969/€1,465 RRP