MS stops hacked hardware accessing Xbox Live
Tweaked DVD drive? No thanks
Microsoft has begun booting owners of modified-firmware Xbox 360 games consoles off of its Xbox Live online service, an array of postings on fan forums have revealed.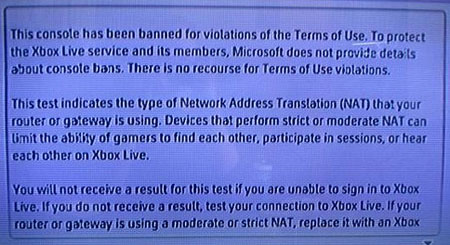 Microsoft's message to Xbox 360 hackers who log on to Xbox Live
The move appears to centre on users who've patched their consoles' firmware to allow the built-in DVD drive to read games on non pre-recorded media. They argue it's to allow them to play back-up copies - Microsoft is presumably motivated to stop people playing unauthorised copies of games, many if not all of which are not back-ups made by folk who've paid for the title they've duplicated for their personal use.
A posting on Microsoft's own Gamerscore website reveals the move was prompted by the launch of the Halo 3 public beta this week. The software giant, it emerged, has a "no tolerance policy towards inappropriate behavior like hacking or cheating".
Xbox 360 owners who have tweaked their machines "will not have their account automatically banned from LIVE, but they will no longer be able to access the service from the console they modified", Microsoft said.