Microsoft tries to hit jackpot with patents FUD but do the numbers add up?
To subscribe to Channel Register's weekly newsletter - seven days of channel news in a single hit - click here.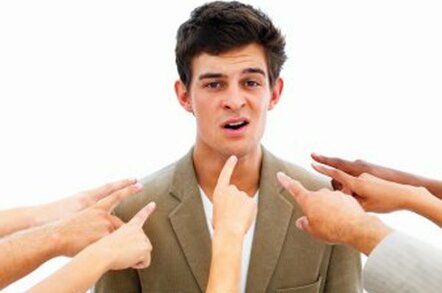 This was a week for figures, at least if you were Microsoft that is.
The first figure Microsoft pulled out of its big monopolist's hat was 235. This was the number of its patents the software behemoth claimed open source software infringed against.
In an interview with Fortune magazine, licensing boss Horacio Gutierrez actually detailed the number of patent violations for each open source product category but refused to say what they were.
In the manner of a bingo caller, we'd like to recite them for you here: Linux kernel? Whinny the Poo, 42. Linux GUIs? Old age pension, 65. "OpenOffice? Halfway there, 45. Email programmes? Rugby team, 15. Miscellaneous open source programmes? Saving grace, 68.
Doesn't FUD mean anything in Norwegian?
If the intention of the Microsoft patent story was to spread fear, uncertainty and doubt about the wisdom of deploying open source software, someone forgot to tell the Norwegian government, which is considering whether to make use of the Open Document Format (ODF) compulsory in its government agencies. Here's another figure - 550 million kroner (Bull's eye! £50 million) - the amount the Danish government claims it could save by migrating to Open Office and ODF.
Don't give me your numbers
Linus Torvalds, the Linux trademark holder, was also far from convinced by Microsoft. He told InformationWeek's Charlie Babcock that Microsoft was a more likely violator of patents than open source developers because most work on operating systems was done long before Windows, or Microsoft, ever appeared.
Dearie Me! Trouble comes in threes
Meanwhile, Sun CEO Jonathan Schwartz was also doing a number on Microsoft. "You would be wise to listen to the customers you're threatening to sue - they can leave you, especially if you give them motivation," he wrote in his blog. "Remember, they wouldn't be motivated unless your products were somehow missing the mark."
$1.3bn reasons to be cheerful...
Away from the patent front, Microsoft was busy pulling more figures out of its hat. Like the $1.3bn it would receive from Lenovo to pre-install Microsoft software on its computers.
... and 40 million big ones, baby
And Bill Gates pointed to a hefty 40 million copies of Vista having been sold so far. He claimed Vista was shipping twice as fast as Windows XP.
That's not fine by me
The money from Lenovo would have gone most of the way to settling the $1.5bn in damages Microsoft was ordered to pay Alcatel-Lucent for violating two MP3 patents, but that was before Alcatel-Lucent decided to do an Oliver Twist and ask for more. The company is asking for at least another $276.6m.
Four dozen, 48!
Returning to the bingo theme, we bring news that Microsoft has reduced the number of processors supported in its Viridian virtualisation software from 64 to 16. It's also given up on plans to include on-the-fly-technology in the product which was originally delayed to the second half of the year to include all the features that have now been taken out.
Snakes alive, all the fives!
Security specialist Symantec is looking for $55m in damages from eight US and Canadian companies it claims were selling illegal copies of its software. Scott Minden, director of legal affairs at Symantec, claimed counterfeit software might "damage users' machines" or steal their identities.
Gateway to heaven and dirty knees
Use of unlicensed software by UK businesses remains stuck at around 27 per cent, according to the latest study by the Business Software Alliance (BSA). Worldwide piracy rates are also steady at a higher rate of 35 per cent. The BSA is calling for bigger fines to try bring those figures down.
Christmas cake is Gandhi's breakfast
Meanwhile, removable media devices have become the number one security issue for over 38 per cent of corporate managers, above viruses and malware/spyware, according to a survey by Centennial Software, but 80 per cent don't have any safeguards in place to protect their networks.
Cock and hen, one in ten
Google has revealed that at least one in ten web pages is booby-trapped with malware. A five-strong Google research team found that 450,000 pages, out of a sample of 4.5 million pages, contained scripts to install malicious code, such as Trojans and spyware, on vulnerable PCs. Another 700,000 pages were thought to be suspicious.
No tape at the accident scene
Time to give up this bingo madness, but we'll stick to the topic of security for a little bit longer. IBM confirmed last week that computer tapes containing personal information on former employees had gone missing. An outside vendor was transporting them from one IBM facility to another on 23 February when there was a traffic accident and the tapes vanished. How would you try and claim that on your car insurance?
Filing never changes
But the former employees could comfort themselves with the thought that, according to research from Waterford Technologies, companies never access 50 per cent of the files they store. Sounds a bit like throwing a whole load of paper files in a filing cabinet and forgetting about them. At least the people who took the IBM tapes might be more interested in looking at them...
Aussies get iSoft for £140m
Last week was also pretty busy on the buying and selling front. The board at the NHS software provider approved an offer to buy the company by Australian healthcare specialist IBA, which values it at 58.1 pence per share or about £140m. iSoft was put up for sale after accounting irregularities and executive departures saw its share price crash and doubts were cast on its involvement with the NHS.
Rival Fawkes off as Phoenix raises bid for ICM
Meanwhile, the ICM saga looked like coming to a close when Phoenix IT increased its bid for the company by £13.5m to £107.8m. Rival bidder Fawkes decided to let its bid lapse. Phoenix said it had "received irrevocable undertakings and non-binding letters" from ICM to accept the bid.
Oracle wants PLM to be more Agile
While £107.8m might have seemed a lot of money to ICM, it is spare change to Oracle which announced it was buying product lifecycle management (PLM) specialist Agile Software for $495m. Oracle has bought more than 30 companies in the last three years. Agile will serve as the foundation for Oracle's PLM offering while furthering the strategy of delivering industry specific enterprise applications.
Green fails to gain purchase among corporate buyers
None of the buyers above will have needed to consider the environmental issues before they made their purchases. It's probably just as well because customers aren't doing too good a job on green issues either. While a survey found 85 per cent of IT buyers at large companies claimed green factors were important in planning IT operations, only 25 per cent had written green criteria into their puchasing processes.
How green is your roadshow?
One vendor that will need to watch its carbon footprint in the coming weeks is Fujitsu Siemens (FSC), which plans a series of channel roadshows in the UK for its Primergy servers. Events are scheduled for Birmingham, London, Edinburgh, and Bolton. The firm said sales of its Primergy range had risen strongly over the past three months on the back of a heavy channel marketing campaign.
Not so green Evans joins HDS
Hitachi Data Systems has appointed Neil Evans, who has held roles at Computacenter, Metrologie UK, and PCL Computer Services over the past 20 years, to take charge of its indirect business in the UK. Evans had been running his own technology consultancy business, SolutionsMTD Limited.
Things we wish we had time for
No time to mention the California-based DRM software company that has hit on a novel way to try and get money from Microsoft, Apple, Adobe and Real Networks - sue them for not using its product. It could become a class action.
And space is just too short to talk about Acer's clever defence against patent infringement suits filed by rival PC maker HP. The company's US subsidiary is suing its suppliers in a bid to make them face HP's wrath as well. With friends like Acer...
Please don't get us started on the computer programme that has helped East German historians to reconstruct 16,000 sacks of shredded paper from the Stasi police. There's 600 million shreds of truth in the story.
Compaq laptop burns very hot
But we do have time to dwell for a moment, but not too long, on the story of Rafael Santo's Compaq nc8430 laptop. When he tried to start it up, the machine refused to co-operate, claiming it had an internal temperature of 5155 degrees celsius, a mere 371 degrees cooler than the surface of the sun.
Space, not the final frontier
That's probably hot enough to cremate someone. Speaking of which, the cremated remains of Star Trek actor James Doohan, who portrayed Scotty in the original series, have gone missing in the New Mexico mountains. They had been sent in a rocket into sub-orbital space as part of a memorial package. The ashes were supposed to be recovered and returned to the families with memorial plaques detailing their final journey. Unfortunately, on their return, they landed in rocky terrain and no one has been able to find them.
iPod off the pace
Another final frontier could be the space between somebody's pacemaker and their iPod. According to a study of 100 pacemaker patients presented to a meeting of heart specialists by a 17-year-old high school student, iPods can interfere with the electromagnetic equipment in implanted pacemakers. Holding the iPod two inches away from their chests for five to 10 seconds was enough to cause electrical interference half the time. In one case, the pacemaker stopped working entirely.
We have two questions: why was a 17-year-old conducting this study, and what were the pacemaker patients listening to? Sheer Heart Attack by Queen perhaps? Or Don't Go Breaking My Heart by Elton John and Kiki Dee? ®
Sponsored: Minds Mastering Machines - Call for papers now open