MS names Halo 3 day
Won't see us for dust (and echoes...)
Halo 3 will go on sale in the US on 25 September, Microsoft proclaimed last night, two months ahead of the US holiday buying season, when it hopes to sell a lot more Xbox 360 consoles on the back of the game.
European buyers will have to wait 24 hours for the game - it'll hit these shore on 26 September.
Tasters are already available - not only the teaser trailer posted earlier this year and the TV ad shown at the CES show in January.
Halo 3 will appear in three forms: a standard edition for $60; a $70 Limited Edition that includes a Making of... DVD; and the Legendary Edition, four discs of content packed into a replica Spartan helmet, all for $130.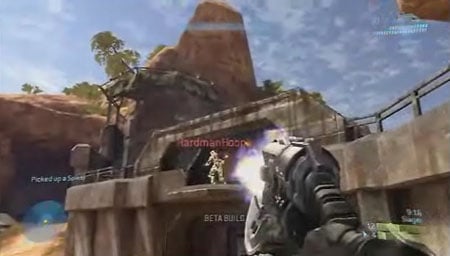 Click for the Halo 3 Public Beta gameplay vid at Gametrailers
Can't wait? The Halo 3 multi-player public beta kicks off in just a few hours' time... More details here...
Bootnote
Bungie's Halo series derives from its earlier, excellent Marathon, still playable and engaging today despite being more then ten years old. Care to try it? It's open source, and the code's been enhanced and ported to Mac OS X, Windows and Linux, and is available here.
Marathon reverberates with numerological references, in particular the number seven. This year is, of course, two-thousand and seven. Add together the numbers that make up Halo 3's launch day and you get seven. Halo 3 is four months away, and four plus three equals seven...
That's it, enough sevens - Ed. For more sevenly revelations, visit the Marathon Story website.