Foxconn first to forge Intel P35-based mobo?
Foxconn has become one of the first mobo makers to tell the world it's about to bring a board based on Intel's next-gen P35 chipset to market.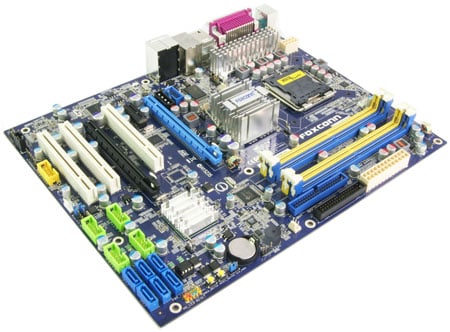 It's pipelined two products for a 4 June appearance: the Core³ P35A and the P35A-S - the latter incorporates the RAID support missing from the former, and has six 3Gbps SATA ports to the P35A's four. The P35A-S also sports a Firewire port.
In all other respects, the two boards are the same: they'll take an LGA775-connected Intel processor, from single- to quad-core, connecting them across a frontside bus clocked at up to 1333MHz - though CPUs that support that speed aren't expected until 22 July. The boards have four DIMM slots for up to 8GB of 1066MHz DDR 2 memory.
Both mainboards have a pair of x16 PCI Express slots for two graphics cards, Nvidia as well as AMD, Foxconn implied. A single x1 slot and three old-style PCI slots are available for other devices. Gigabit Ethernet, 7.1-channel HD audio, an eSATA and ten USB 2.0 ports complete the spec.
Foxconn also highlighted the boards' use of solid capacitors which, it claimed, have a much longer operational life than traditional electrolytic boys.
The P35A and P35A-S go on sale early next month. Foxconn did not provide pricing information.