Seagate FreeAgent Pro 750GB external hard drive
As capacious as an elephant's scrotum - and as visually appealing?
Review You can go too far to be consumer friendly. Making a device straightforward to set up and get running with some clear, simple guidance is all very well, but it's easy to overdo it and come across chirpy and brainless. Seagate has come perilously close with its FreeAgent Pro external hard drive.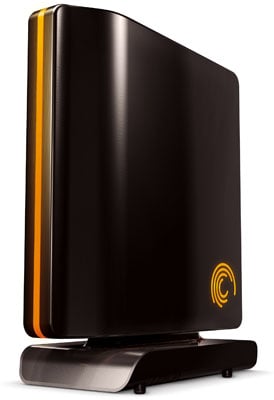 Seagate clearly believes ordinary folk are scared of storage, even though external drives have never been easier to connect and use. So, opening the FreeAgent Pro's box reveals not only the most basic of set-up guides - reassuringly headlined, in large, friendly letters, "This won't take long" - but all the cables and adaptors come in little grey bags each sealed with a yellow sticker marked "Hello".
Every page of the set-up instructions includes the time Seagate expects you to take with each stage, claiming you'll be done in 1 minute 51 seconds. Or not - as it says on the back: "Times may vary depending on exactly how excited you are about using your new FreeAgent Pro data mover."
Heck, even Mac packaging isn't this smug.
And let me repeat those last few words. "Data mover." Even the phrase 'hard drive' might prove unfathomable for poor old Colin, the Confused Consumer.
But the worse is yet to come: the FreeAgent's design. Again, in a bid to stress that storage products are as relevant to consumers as they are to office drones, Seagate has come up with a look that's miles from the grey blocks of yore. The drive's encased in black plastic moulded to look like brushed metal and banded with translucent orange plastic that lights up when you connect the power supply. It's also eminently scratchable as I found after taking it home one evening.
Black and orange can go together, but here the illumination resembles nothing so much as the sickly glow you get from sodium street lamps.