Creative is to bring its X-Fi audio enhancement technology to notebook computers - at least, notebook computers with an ExpressCard 54 slot on board.
Dubbed the SoundBlaster X-Fi Xtreme Audio Notebook, the add-in unit was announced today in Japan. The card has analogue and digital optical 3.5mm input and output ports, and a proprietary connector that hook up to a bundled 7.1-channel output dongle.
The card incorporates sound tweaking technology that can reconstruct audio detail lost when music is compressed using 'lossy' sound formats like MP3. Creative was recently smacked on the wrist by the UK's Advertising Standards Authority for claiming the system produces better sound quality than you get off a CD.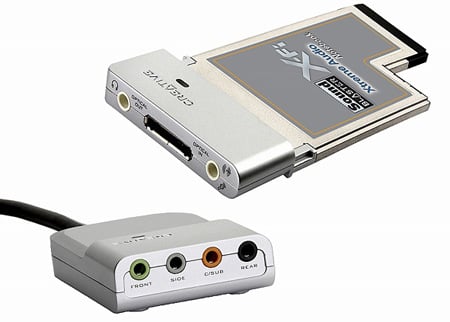 The SoundBlaster X-Fi Xtreme Audio Notebook also provides a 3D sound enhancement, capable of generating a more spacey sound even from two speakers or a pair of earphones, Creative claimed. And it'll output 7.1 sound, of course - Creative will pitch the product at punters who want to play music and movies on their living room laptop.
The product's availability outside Japan isn't known, but it ships in the land of the Yen later this month for around ¥12,800 ($107/£54/€79).
Sponsored: Webcast: Ransomware has gone nuclear