O2, Vodafone first in UK with BlackBerry Curve
O2 ahead by two weeks
O2 and Vodafone today became the first UK carriers to take on Research in Motion's consumer-friendly BlackBerry Curve. The handset itself was launched yesterday.
The Curve is RIM's smallest and lightest - just about - BlackBerry with a full QWERTY keyboard: it measures 10.7 x 6 x 1.6cm and weighs 111g. The handset has a two-megapixel, 5x digital zoom camera; Bluetooth wireless stereo audio; quad-band GSM/GPRS connectivity; 64MB of memory; a Micro SD card slot and a bright 320 x 240 display.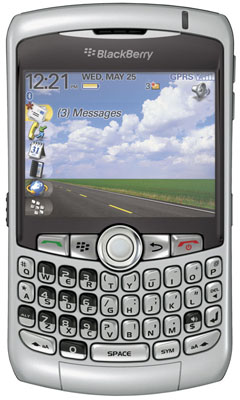 Vodafone said its version of the Curve will go on sale on Monday, 21 May, pitched primarily at business buyers. O2 customers will get it sooner: on Tuesday, 8 May, the carrier said today. Both will give the handset away for nothing if you acquire a large enough monthly airtime package.