ION USB turntable
The vinyl countdown
Review The next generation of DJs are forsaking traditional 12-inchers in favour of digital means to create their sounds. If you think today's tunes could benefit from some seasoned samples, or even if you want to transfer your vintage vinyl to a digital music player, then this could be a worthwhile investment.
The ION USB turntable is certainly one of the more interesting devices available from the usual online gadget store suspects and it'll appeal to both young and old. In fact, Register Hardware has had to fight hard to keep every pair of prying paws in the office off it. Reactions like, "Oooh, can I borrow that when you're done..." have been heard a lot of late.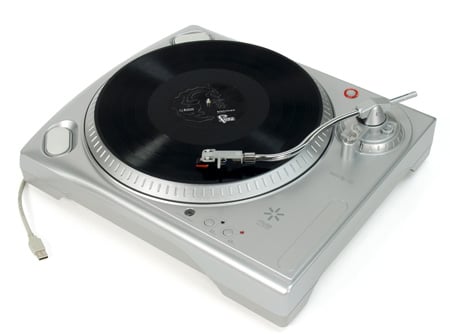 Until recently, the most practical way to transfer vinyl music to a digital format was to connect a hi-fi system to a sound card-equipped PC. As a desktop would probably be used to perform this task, no doubt trying to connect the two across the expanse of a living room often proved problematic.
The ION is well packaged, with the fragile components, including the stylus, neatly stuffed into Styrofoam end caps. Check the box contents against the clearly labelled list on the instructions - always a good habit to get into - as the review sample we received was missing a slipmat for the turntable. Not a particularly big problem for us, but it could mean a delay in setting it up for some.
The deck comes with cables that can be connected to an amplifier, allowing you to hear what you're playing. Alternately, sound can also be played through the computer and out of headphones or speakers. Be sure to plug all the cables in before setting up the stylus and counter weight as all the ports on are on the underside of the unit.
Sponsored: Becoming a Pragmatic Security Leader