Nokia N95 multimedia slider phone
Yes, it does everything - but is it any good?
Now comes the clever bit: sliding the screen downwards reveals the N95's third keypad: a set of media playback buttons. It's a gimmick of course - I found myself using the main control cluster more often than the dedicated media controls - but they're there if you prefer them.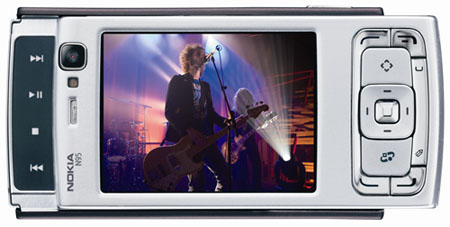 The second slider flips the display into landscape mode and pops up the first of the N95's two menu screens: the Multimedia Menu. The other is the standard S60 screen. The Multimedia menu's an animated affair that, despite its name, can be customised to incorporate any app on the phone. And since it operates in portrait mode as well as landscape, and can be activated from the N95's main navigation pad, you can use it as an alternative to the standard menu.
The only flaw: it's intended to sport an animated background and fades out all the icons in favour of the animation. There's no way to disable this behaviour. And then there's the inevitable pregnant pause while the menu loads. Application load times remain slower than they should be, though apps already running switch quickly enough - certainly faster than recent Nokias I've looked at.
A quick note about the S60 menu: it now highlights the icons of open applications so you know what's running. And unlike earlier N series handsets, like the N70, pressing the call-break button in other apps takes you straight to the phone display without quitting the application you were just using, so you don't have to wait while they restart.
Music playback's well up to iPod standards. Yes, the Apple player has a neater interface, but the N95's Music Player app does more, building on basic playback with EQ pre-sets, all of them customisable, and a very nice stereo spacing feature, which works particularly well with earphones. Not that you'd play music back through the built-in speakers - unless you fancy that ye olde transistor radio sound...