BT brings Wii-like remote control to PCs
Shake, rattle and roll
UK telco British Telecom has built an add-on for laptops, tablets and ultra-mobile PCs that allows users to control their computer simply by moving it around.
Called Balance, the unit plugs into a spare USB port. Inside, it contains a set of motion sensors similar to the detectors build into Nintendo's Wii Remote game controller. Special software converts feedback from the sensors into instructions for the host machine's Windows user interface.
Tilting the screen left or right, for example, could cause the cursor to move in the appropriate direction. Shaking it vigorously up and down could be set empty the Recycle Bin or restart the machine.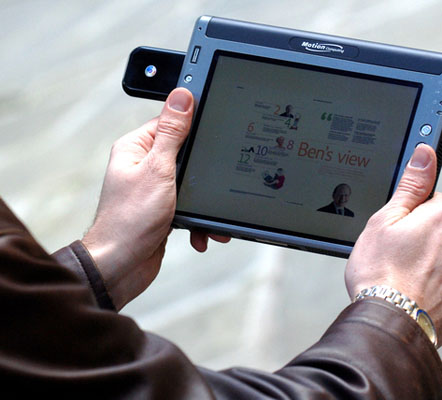 It'd certainly make an interesting add-on for driving games, we'd say.
However, BT has more practical uses in mind, in particular new ways to help the elderly and the disabled use computers, particular mobile devices which otherwise require the user to be able to work with a tiny keyboard.
It also has its eye on field-engineers who may need to control their computers with one hand.
It's nothing new, of course. Finnish technology firm MyOrigo gave The Register a demo of a phone that uses the same principles to make calls and surf the internet back in July 2003. MyOrigo's technology has yet to come to market, though it's keen to licence it to device manufacturers.
BT's unit is a little way off too: the company said the technology is still in development and being tested in the field.