Nokia N93i camera phone
It's a phone. It's a camcorder. It's a robot. Well, maybe not a robot...
Review The Nokia N93i isn't quite sure if it's a phone, a camcorder, or something in between. Flip it one way and it appears all phone-like, but swivel the display around and it feels like you're holding a mini-camcorder.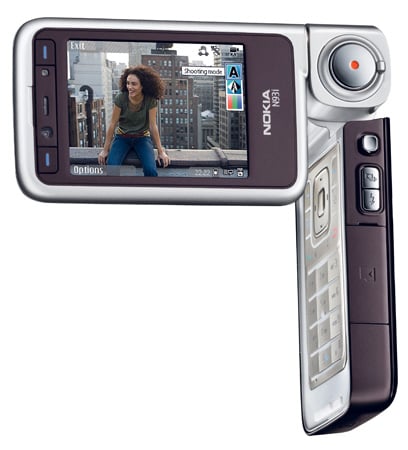 Like the Nokia N93 before it, the N93i is an attempt to bridge both worlds - leaving you with one less device taking up space in your pocket. It's certainly more stylish that its predecessor, with its silver and grey finish and mirrored external screen. You'll need to treat it carefully, mind, as that mirror finish is prone to picking up fingerprints and other grubby marks. Unless you really enjoy cleaning smears off your phone every five minutes it's soon going to lose that stylish shine.
The N93i can mutate into four distinct modes. When it's closed a hidden display beneath the mirror shows status info, like what time it is and the caller ID of incoming calls. Flip the display straight up and it's a normal clamshell phone, with numeric keypad at the bottom and portrait-oriented display at the top.
Fold the display back down so it's at right angles to the body of the unit and then twist it 90° anti-clockwise, and it enters camera mode. The display switches to landscape, acting as a viewfinder, and the menu adjusts to picture-taking related settings. When you've got it in this configuration, the big record button sits naturally under your thumb and there's a rotating ring around its edge to control the 3x optical zoom. Below the record button, on the main body of the unit, is a small joystick so you can find your way around the menu when you're in this mode. However, it's far from easy to use and can feel a bit stubborn to respond at times.
Sponsored: Becoming a Pragmatic Security Leader