Apple TV hackers called to create open source set-top
You have nothing to lose but your CableCards
Neuros Technology has called on Apple TV hackers to join it and develop a next-generation open source set-top box to prevent IPTV falling into the hands of the Man.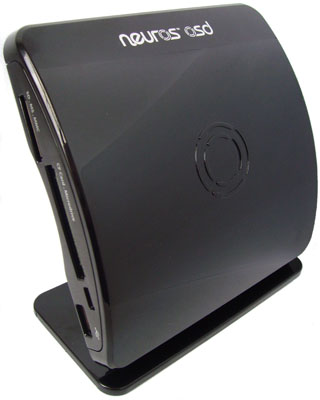 Neuros launched its Linux-based OSD last autumn. It's a media centre that can digitise video content to connected storage - either a locally fitted USB drive or memory card; via the unit's LAN port to a networked computer or NAS box; or to an iPod, PSP or other portable media player.
Like other Neuros hardware, the OSD is largley based on open source software - though some elements, thanks to the need to use third-party components, remain closed - and the company encourages its customers to hack the code and share their work with other owners. The upshot, it reckons, is improved functionality and support for more digital content formats.
Which is, of course, one reason why so many folk are hacking Apple's Apple TV, for example adding new codecs to allow the $299 'Mac Nano' to play DivX files.

This, says Neuros CEO Joe Born in an open letter to Apple TV coders, is to be encouraged if the vested interests - content providers and the hardware manufacturers who have stakes in them - seek to lock down what consumers can watch, where and when.
To prevent that happening, he believes, the world needs not only open hardware - Neuros, after all, is already producing that - but also and crucially major momentum behind the software development work that allows the hardware to support more devices and more formats, thus making it relevant to more consumers.

Of course, Neuros benefits from all this financially, by selling more hardware, an activity threatened by Apple TV, particularly given its hackability, but Born clearly hopes to free the company from the proprietary technologies even the OSD has to contain, in part by using clever code to do the same job on more open components.
It's not for the mainstream, perhaps, but there's something to be said for truly opening access to IPTV and preventing the greedheads dominating a new televisual medium and eroding the audience's viewing rights. And that has to be a better goal than simply making one platform slightly less proprietary than it currently is.