Panasonic CF-Y5 Toughbook laptop
A Navy SEAL of notebooks... a lumberjack of laptops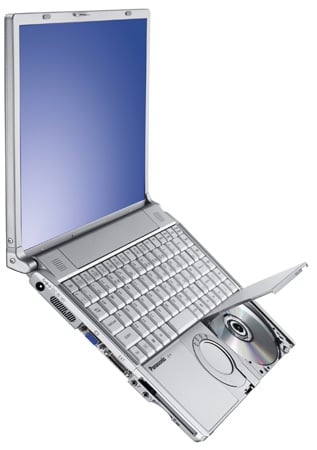 Shortly after we emptied said bottle of still mineral water over the keyboard of the Y5, marvelled at the drainage mechanism and leaving it to one side to dry off, the machine recorded an error: Hardware malfunction: call your hardware vendor for support - NMI: Channel check / IOCHK *** The system has halted ***.
The problem cleared with the reset and the Y5's been chugging along happily since, but some poor technician at Panasonic HQ is going to have to give it a full check-up before loaning it out again. The official marketing gumpf says merely that the keyboard is "splash resistant", though the accompanying press advice says it can deal with 200ml of spilt water.
We thought it wise to let the machine rest before roughing it up again. It's got a 14.1in LCD screen (1,400 x 1,050 pixel resolution) of good quality (active matrix TFT and SXGA+ graphics on an Intel chipset). There's a good selection of slots and sockets: PC Card, SD memory, external monitor, two USB ports, network, modem, port replicator connector and headphone and microphone sockets.
It's got a wireless network adaptor, of course, Bluetooth, high definition sound compatibility and a rewritable DVD drive. The standard-issue 512MB of DDR2 553MHz RAM is a little light and we'd recommend considering an upgrade. The 60 GB hard disk is contained within a protective layer of shock-resistant foam, which is one of the more important protective measures. The keyboard is an impressive size and fills out almost to the edges of the machine and at its heart lies a low-voltage Core Duo L2400 processor running at 1.66GHz with 2MB L2 cache.
When undertaking routine tasks, the battery lasted for an average of around six hours, which is not at all bad, and playing DVDs constantly it averaged at a little over four hours - again, not bad: that's two average-length movies, or one of the Lord of the Rings trilogy and a little work maybe as well.
Verdict
With an improved display, a dual-core processor and its all-round ruggedness, we took to this Toughbook even more than the earlier CF-W5 model. However, £1,649 for a laptop with a Core Duo L2400 and just 512MB RAM is enough to deter a few that were once-interested in investing in this product. An integrated 3G HSDPA slot for mobile broadband can be added, but then that complete set-up will set you back £1,949. If it were a little less expensive and had a bit more RAM, Panasonic would have a prizewinner.

Panasonic CF-Y5 Toughbook laptop
Tougher than the average laptop and so it ought to be for the price Panasonic's charging for it
Price:
£1,649 ex-VAT (additional £300 for optional HSDPA 3G) RRP