Panasonic CF-Y5 Toughbook laptop
A Navy SEAL of notebooks... a lumberjack of laptops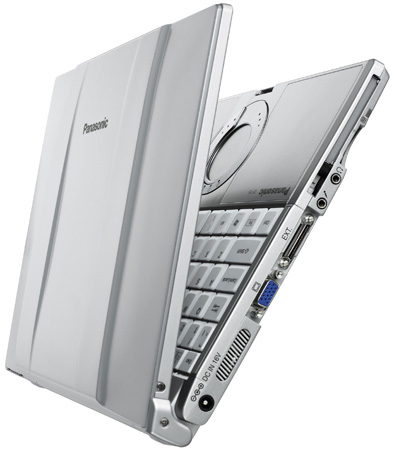 Unlike other machines, you feel that if the Y5 really did bounce off the back seat of your car, you wouldn't even have to check it was still running. It's cased with a magnesium alloy that feels like the sort of plastic you'd use to construct a laptop for a three-year-old child. And it's light enough to make you go back and double-check its integrity. The Y5 sports a 14.1in screen, a DVD-RW drive and a battery that lasts around seven hours (without using power intensive tools like watching a DVD), and yet it weighs only 1.53Kg.
You can buy lighter laptops for less than two-thirds of the price of the Y5, but you might want to look at the specifications closely and see how sturdy they feel in comparison and think seriously how you plan to be using it, because the review that follows should not sway you into investing in a Y5 if the most perilous journey your laptop will ever made is from boot of your car to the cranny desk under the stairs. This is a machine that deserves to be thrown around in a rucksack, sat on and used to bash bad-mannered people on the London underground.
The exterior design of the machine's casing is reminiscent of a Sherman tank cross-bred with a 1970s sports saloon, while the lid opens with the grace of a bank vault door. Yet the designers have managed to make the machine look attractive all the same, the overall effect being what you'd expect from GI Jane in a glittery ball gown.
Panasonic has designed this keyboard with drains running beneath it. Should you happen to take a bottle of Evian water and empty it all over the Y5 keyboard (like we did), you'll find it drains out of the bottom of the machine leaving a puppy dog-style puddle of piddle.