US 'Land Warrior' wearable-computing headed to Iraq
Despite programme cancellation, poor user reviews
The US Army's wearable tech programme for soldiers, Land Warrior, is dead in the water.
Despite well over a decade of work and hundreds of millions of dollars in development funding, there remain very significant problems with the kit and it has received poor reviews from soldiers in testing. The equipment was de-listed from the Army budget in February, effectively killing Land Warrior as it stands. Strangely, however, it is about to get its first real trial in Iraq.
Wearable tech for close-combat troops has been in the pipeline for a long time. Land Warrior first got rolling in America as long ago as 1991, and some $500m has now reportedly been spent. The UK's equivalent FIST (Future Integrated Soldier Technology) began in 1994 and has £2bn earmarked for it. FIST is scheduled for deployment by 2015. Various other countries are sniffing around the concept, too.
FIST, Land Warrior, and most of the others are fairly similar. There is a helmet-mounted display, a gun-mounted camera, sat-nav, and digital networking. Integrating these can provide various services that soldiers could find useful. Land Warrior, for instance, can show a tactical map on the flip-down helmet display with all a soldier's squadmates marked on it, Ghost Recon style. This could be very useful in a fast-moving urban firefight; potentially you'll know if your buddy is about to appear in a doorway or round a corner, so you won't mistakenly shoot him.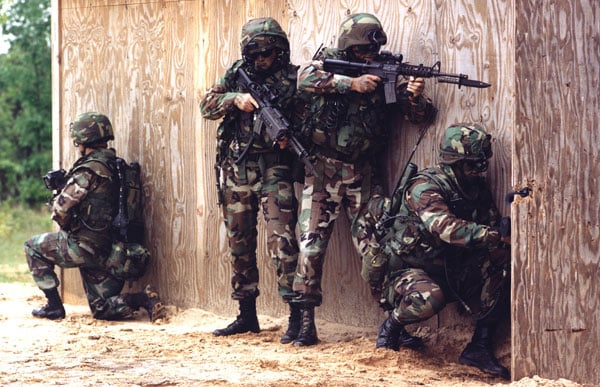 Soldiers test the Land Warrior system. The soldier on the right is taking advantage of the system's ability to look around corners.
But, in fact, according to an article in May's Popular Mechanics, the map is slow to update. It generally lags up to a minute behind the real world, not a patch on the one in Ghost Recon Advanced Warfighter 2 (this could be something to do with the fact that Land Warrior is based on a 400 MHz ARM processor, as opposed to the Xbox 360's triple 3.2-gig cores. But you could never run an Xbox on portable batteries, and anyway the snags probably lie as much in the network and the nav system). Land Warrior mapping could still prevent errors by snipers, artillery, or close air support, but it just won't do for close combat.
Another feature common to Land Warrior and FIST is the gun-cam. US or British soldiers can view heads-up video from their weapon sights, allowing them to poke their M4 carbine or SA80 round a corner or over a wall and see what's going on without sticking their heads out of cover. Potentially, they could even shoot at enemies like this; they have a gunsight pipper on their display.
Again, however, there are problems. To begin with, nobody except Arnold Schwarzenegger can shoot a long gun accurately without the butt tucked into their shoulder (there are rumours that in real life even Arnie can't really hit much one-handed from the hip). Looking round corners is quite useful, but you can do that with a periscope or a mirror on a stick, without even sticking your arm out.
The Land Warrior gunsight-cam also has the ability to zoom up to 12x, which "makes every rifleman a marksman", according to Colonel Richard Hansen, the programme manager. The word "marksman" has a lot of different meanings (it can mean a fairly low-level American shooting qualification, a job within an infantry unit, a more difficult British qualification, etc).
Many would argue that it takes more than a sight to make a marksman; some would also suggest that anything more than 4x magnification for the low-powered ammo used in M4s or SA80s is overkill. British fire-team marksmen using the long-barrelled LSW variant of the SA80 operate very efficiently using 4x optics. In any case, another complaint about the Land Warrior zoom-sight is that it is very slow to focus. Popular Mechanics describes it as "more like a cheap digital camera than an advanced piece of military gear".
So, in fact, for ordinary soldiers, Land Warrior and its ilk boils down to a very heavy, expensive voice radio with relatively crappy battery life.
"It's just a bunch of stuff we don't use, taking the place of useful stuff like guns," one soldier told Popular Mechanics. "It makes you a slower, heavier target."