Pentax Optio E30 compact digital camera
7-megapixel camera for less than £100. Yes, less...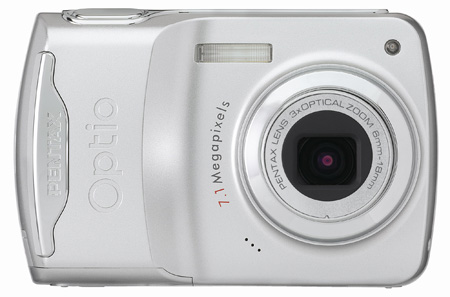 The menu system is similarly excellent, with navigation being carried out with just a few button clicks. Zooming in is left to two dedicated buttons and setting up different kinds of focus, flash and timer options is a doddle even if this is the first time you've opted for a digital camera. A collection of 15 different automatic settings also makes for good photos right from the off. These are represented by obvious logos and words so there's no mistaking their use and the ability to capture video or voice make up two of the choices.
There are some weird options on offer here, though, including automatic settings to shoot food and pets. More advanced users might find the auto settings too basic to bother with and in that case the Program option can be used. This takes images based on the general settings set up in the main menu. Anyone wanting to go the other way and relinquish total control to the camera can simply push the green Easy button and get quick, fully-automatic snaps.
Performance wise, photos taken with the Optio E30 appeared with very little noise. That's thanks to the minimum ISO 80 and maximum ISO 320 settings that are used in automatic mode, depending on how much light you have. Noise only increases to distort the images as the ISO level is increased, but only users accessing the more advanced Program function can go as high as ISO 400.
One seriously useful feature is the use of regular AA batteries that can be easily restocked no matter where you are in the world. That gets rid of the need to carry around a specific charger for one product or buy expensive proprietary rechargeable batteries in order to have spares.
Verdict
A few nagging problems aside, the Optio E30 is a very good camera for the price tag. Images are as crisp and clear as a budget photographer could want, the viewing screen is large and it's extremely easy to use right out of the box.

Pentax Optio E30 compact digital camera
A 7-megapixel camera for less than £100 will raise eyebrows, and the usability can back that up