Pentax Optio E30 compact digital camera
7-megapixel camera for less than £100. Yes, less...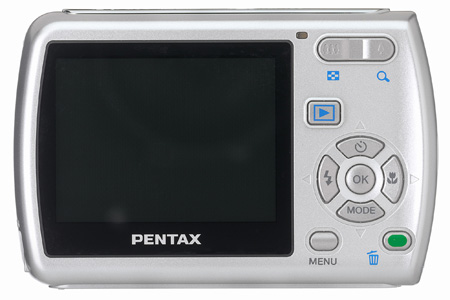 The design of the Optio E30 also betrays its cheap manufacture. While it is not quite the Ugly Betty of the camera world, it wouldn't grace a catwalk at Mode Magazine either. Its form factor is a little bulky in a pocket when compared with the sleeker, more discreet models available today. However, the powerful lens is helpfully concealed by retracting it into the camera and it only extends fully when the E30 is turned on.
Another slight nag about the build quality is that the shutter button is slightly too far forward. Sitting this on the part of the camera that begins to slope down towards the front means you need to grip the Optio quite firmly to get your shot off, otherwise your finger can just slide down. Housing the button directly at the top of the camera would solve this problem and make it much easier to capture your intended target.
Another strange option is the decision to leave the USB connector open to the elements. With this model being at the lower end of the market it is unlikely to be carried by a professional tucked away nicely in a case. The casual users attracted by the price tag are much more likely to stick it in a pocket, the bottom of a bag or in a drawer at home where any number of things could clog up this connection point.
Thankfully, Pentax hasn't scrimped on the viewing screen and the 2.4in LCD offering almost fills the back of the camera. Generally this is excellent, although it can occasionally be hard to see your target if there's direct sunlight on the screen.