Sony revamps satnav line-up
Scenting summer and out to appeal to anyone who got lost or stuck in traffic during the Easter break, Sony has pointed the way to a major refresh of its Nav-U satellite navigation kit range.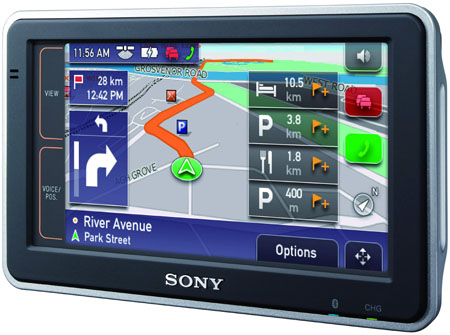 The new line-up comprises four models. The NV-U52 contains 512MB of on-board memory, enough for maps covering a single country. It has a 3.5in touchscreen coated with a grease-guarding layer to keep the finger prints off.
The NV-U72T has the same display as the NV-52, but features 2GB of memory packed with maps covering all of Western Europe. It also incorporates a real-time Traffic Message Channel monitor, a feature to be found on the top-of-the-line NV-92T and which is also available as an optional extra on the in-between model, the NV-82.
The NV-82 and NV-92T both sport 4.8in, high contrast wide touchscreens, and feature integrated accelerometers to ensure the navigation and route-planning remains accurate even when the GPS signal is lost. The NV-82 has 512MB of memory, the NV-92T 2GB. Both are just 2cm thick.
All four satnavs have a Memory Stick slot for extra map storage, and come with a car adaoptor, soft case and suction mount.
The NV-U82 and NV-U92T will be available in the UK "from late spring 2007", with the NV-U72T and NV-U52 following "early summer 2007", Sony said. Prices were not disclosed.