Games swap site goes live
Anyone who's thought of flogging their old games on eBay or Amazon and found prices too small to be worth the hassle may care to try new website Infinite Continues, a kind of Multicoloured Swap Shop for games. Well, without Keith Chegwin and Noel Edmonds, of course.
The site formally launched this week after six months' testing. Would-be swappers register with the site - free of charge - then post a list of games they're done with and ones they'd like to try. You can browse the site's database for titles you want, and it'll highlight other users you can swap with.
If you agree to a swap with another user, the two of you exchange your games by mail.
Like almost all auction and retail sites, swappers can be rated in order to help keep people honest - or at least reveal those with a poor swapping record. Infinite Continues doesn't consider it part of the trade - it just introduces you to potential swappers.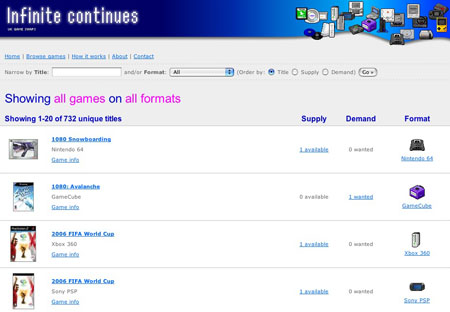 The site is currently focusing on PAL titles only, but subdivides them by all the major machine types - console and computer, old and new - to help users track down the games they want.
Infinite Continues is at www.infinitecontinues.com.