Sony Walkman NW-A800 media player
The Walkman enters the digital video arena...
Review Sony used to be synonymous with portable entertainment: its Walkman range was the brand that all products aspired to. After losing ground with the digital generation Sony is out to mount a comeback with the NW-A800 - its first Walkman that can handle both audio and video playback on the go.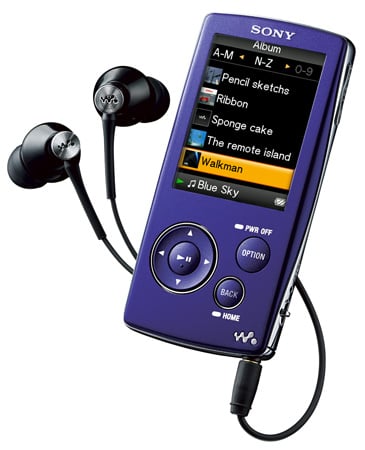 The NW-A800 is more of a competitor to the iPod Nano than the iPod proper. It's a Flash-based player, available in 2GB, 4GB or 8GB capacities - although it's pricier than Apple's similar-sized players. The 2GB and 4GB versions are £119 and £149 respectively - £20 more than the equivalent capacity Nano. The 8GB model will set you back £199, making it £30 more expensive than the nearest Nano - but of course the Apple can't do video. The Sony can.
The NW-A800 is a small slim player, measuring 8.8 x 4.4cm and just 9mm thick. It's light too, weighing in at just 53g so you won't have a problem carrying it around with you. The fashion conscious will be happy to know it's available in a range of four colours. The standard black and white version are catered for, along with a blue/violet model and a pink one for the more adventurous.
On the front of the unit there's a four-way control pad for navigating around the menu screens and a play/pause button for making selections. There's also an Option button, which brings up a sub-menu relating to the current screen you're on and a Back button for retracing your steps. The rest of the front is taking up by the comparatively large 2in screen, which fills around half of the space available.
There's a volume rocker switch on the right-hand side and a Hold switch tucked around the back. You connect up a PC via a custom USB cable, which plugs in at the bottom and also recharges the unit when it's plugged in. The headphone connector is also on the bottom, next to the USB port, so if you want to carry it around in your pocket you'll have to put it in upside down, Nano fashion.
Sponsored: Detecting cyber attacks as a small to medium business