Watchdog downsamples Creative Xmod 'better than CD' claim
Prove it
Music player maker Creative has been told not to claim its Xmod sound-enhancement system can take an MP3 track and make it sound better than a CD - at least until it can prove that's the case.
The wrist-slapping came from the UK's Advertising Standards Authority (ASA) after an audio engineer objected to Creative's claim, made in an email-distributed advertisement. In a judgement published today, the ASA said Creative had not produced "evidence to show that the sound [Xmod] delivered was better than CD quality".
However, it noted that the claim was "objective and capable of substantiation", leaving the door open to Creative to come up with compelling evidence to back its claim. Until it does, the ASA ruled, it must not say Xmod is good "for audio that sounds even better than CD quality".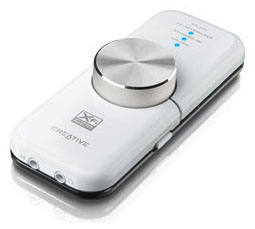 The engineer also took issue with Creative's claim that its technology created "an experience beyond studio quality". However, the ASA sided with Creative on this one, accepting the company's argument that the Xmod's operational sound specifications - 24-bit quantisation at 96kHz - was within the range used by studio-specific equipment.
"We considered that the claim 'An Experience Beyond Studio Quality' focused on Creative's view of the listener's experience and noted it did not state that the product delivered sound beyond studio quality," the ASA said. "We concluded that the claim was unlikely to mislead."
Last week, the ASA rapped Microsoft on the knuckles for an Xbox 360 ad it claimed might encourage "dangerous driving".