Plenty of Sun users to skip Fujitsu march
Ready to be Rocked instead
A large chunk of Sun Microsystems customers may skip right over the upcoming SPARC experiment with Fujitsu, according to server chief John Fowler.
In the coming months, Sun will launch a line of SPARC64-based servers in conjunction with Fujitsu. These servers will replace boxes based on Sun's own UltraSPARV IV+ chips and help the vendor compete against the likes of IBM and HP in the Unix market. The rub, however, comes when you realize that the Fujitsu gear will only out pace similar systems based on new "Rock" silicon from Sun by a few months.
"The timing of the products is closer together than normal for this class of technology but that's just an engineering reality," Fowler told us. "We've had worse problems like not enough products."
Sun originally turned to Fujitsu to share chip and system costs after it canceled the UltraSPARC V project in 2004. Back then, Fujitsu's aid looked like a godsend with Sun projecting a massive gap between speed boosts to its UltraSPARC chips and the, at the time, unrefined release schedule for Rock systems.
Hindsight, as you all know, can be a cruel master.
The UltraSPARC IV line of processors has been tweaked past 2GHz and sales of servers based on the chip have gone better than anyone could have imagined. Meanwhile, Fujistu has slipped on the release of fresh SPARC64s, and Rock - due out in 2008 - has arrived right on time.
"Engineering works in funny ways," Fowler said. "We got more out of UltraSPARC IV than we expected, and Rock is happening in the time frame we hoped for. It could have easily been very different."
As a result of the overlap, Sun will have two high-end server lines aimed at very similar tasks - back office stuff such as Oracle, SAP and the like. So far, the company has been unwilling to admit this overlap, although we coaxed such a confession out of the good-natured Fowler, who was kind enough to give us an interview just days after we poked at him in a story.
"A lot of people, especially given that we have gotten to 1.8GHz, 1.95GHz and 2.1GHz with UltraSPARC IV+, will just stay there until Rock," Fowler said. "Other people will be interested in the features and performance of the combined Sun/Fujitsu products.
"We aren't making people transition at all. That's part of the value proposition. Strong choices and no forced march."
Just like the Itanium rollout. Oh, wait . . . (To see just how good of a sport Fowler is, check out this video. No Carly doll in the tub?)
So, for Sun customers, the presence of two high-end server lines looks like a nice option. The Fujitsu gear, based on dual-core chips, won't blow you away, but should be decently competitive with Power- and Itanium-based servers. We're sure you're all too familiar with such a scenario.
Then, in 2008, Sun looks set to give rivals some more serious competition with the release of the 16-core Rock chip.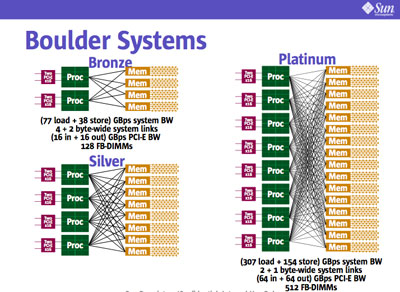 Meet Boulder
For the first time in many years, we're feeling bullish about Sun's high-end system prospects. That said, one does wonder about the costs tied to supporting two high-end server lines. Sure, Sun has deals in place with Fujitsu for some system and chip work and with TI for chip manufacturing to offset a portion of the R&D load. That doesn't make this stuff free or even cheap. ®
Sponsored: Detecting cyber attacks as a small to medium business