Quantum won't stoop to de-dupe coup?
Friendly fire aimed at NetApp and EMC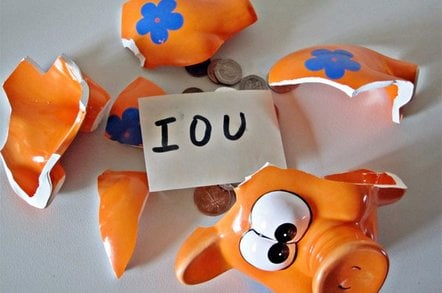 Analysis Could Quantum's amiable treatment of rival Data Domain in a patent dispute be a move to create a kinder, gentler environment for the storage market's rage du jour - de-duping software?
Nestled amongst the usual market clicks and whistles of Data Domain's IPO registration statement last week was an announcement that caught the attention of industry watchers. The company rather inconspicuously lists in its S-1 that, during the fourth quarter of 2006, bitter de-duplication tech rival Quantum approached Data Domain alleging it had infringed on Quantum patents.
Instead of filing a lawsuit that could have critically de-railed their rival's public offering, Quantum agreed to a cross-licensing agreement between the two firms and gained 390,000 shares of Data Domain stock - worth an estimated $3.3m post-IPO.
The chump change payout/licensing deal has some scratching their heads.
Storage companies are notoriously black hearted when it comes to intellectual property, preferring to nuke from orbit rather than sit, talk and deal: a prime example being the heated storage system API wars between IBM, EMC, HP and Hitachi from 2001-2004 over heterogeneous management software.
Adding extra shrugginess to our curious shrug — de-duping is looking like the hottest area in the storage market in the near future. The technology removes redundant information as data is backed up or archived. The process greatly decreases storage capacity required — with companies boasting more than a 25:1 data glut cut.
"Any retail product that does not have an accompanying data de-duping tech is going to be unsalable by the end of this year," market analyst for the Taneja Group, Arun Taneja tells The Register. Storage companies' rush to eat start-ups for de-duping technology (EMC bought Avamar, while NetApp bought Topio) confirms this push.
So, given storage vendors' abhorrence for making nice and the apparent need to take the lead with de-duping software, why would Quantum settle so easily with Data Domain?
Quantum tells us that they simply weren't interested in a lawsuit. They protected their intellectual property, and now it's all marshmallows and rainbows.
Meanwhile, Taneja has a richer theory: While Quantum might be the bigger kid in the sandbox compared to Data Domain — companies like EMC and NetApp also have a shovel and pale ready. These are the throbbing gland problem kids. The kind who start shaving at eight years old. Large is what we're getting at - companies that can bite back.
"Quantum had two options. They could go after everyone who had anything resembling a patent infringement with a vengeance or send a message to the rest of the industry," Taneja said. "In my gut, Quantum did a very smart, decent thing."
That message sent by Quantum is that it's willing to come to a business resolution to settle disputes in a furious de-duping market where patent portfolios are being acquired and weighed. Quantum may well hope that larger rivals will take note of the Data Domain resolution and open diplomatic channels.
Let's get rich together
On the one hand, Data Domain likely saw a settlement with Quantum as the easiest, cleanest route to its IPO. "I think it's obvious that Data Domain got out from under a cloud (through the Quantum settlement)," Illuminata analyst John Webster said.
Still, the start-up gave up a lot of possible leverage in the de-duping market by settling with Quantum. Beyond that, it paid Quantum to stay nice.
This has led a number of observers to comment that Quantum's de-duping IP inherited from startup Rocksoft via its 2006 acquisition of ADIC must look strong.
Neither company is willing to talk about the specifics on who had what over whom.
"Both companies have patent portfolios," Data Domain VP of marketing Beth White answered diplomatically. "Data Domain has many patents that have been filed - several that have been granted."
Curses.
"I wouldn't be surprised for a nanosecond that when these two companies sat down, they discovered there was a crossover on both sides," Taneja said.
And so it could well be the case that Quantum hopes larger rivals such as EMC and NetApp will see similar, broad crossover as well. "Let's not derail the de-duping gravy trains when we all have patents to spare," goes the thinking.
Such an approach would serve the vendors and customers well with the storage giants shrugging off their usual need to grind away in court over IP disputes. Lord knows the heterogeneous software roll out was stalled by vendor stubbornness.
Now to see if all this caring and sharing is catching. Have you hugged your data storage company today? ®