HP makes PC gaming play
But still more shiny shoes than sneakers
Comment HP this week unveiled its strategy to frag the competition and become the crowned head of PC gaming: it's... er... going to make and sell some gaming PCs. And a view-filling curved monitor. Maybe.
HP acquired gaming PC specialist VoodooPC in September 2006. Almost seven months on, the best the company could this week say about the move is that it plans to use the subsidiary to help it "commercialise new PC, display and networking technologies that create an immersive, high-definition and interactive experience for gamers".
Since gaming is all about high-definition immersive interactive experiences, we hope that is indeed what HP's gaming systems deliver - just like so many of its competitors' products do.
Not that it's blind to gamers' desires. We were very interested to read about HP's new-found "way to superimpose multimedia digital experiences on physical landscapes so people could, for example, play a game throughout a city using wireless handheld devices". And then we remembered that someone else has got there first, and in a shipping product: ToySpring's Arcade Reality game for the Palm Treo.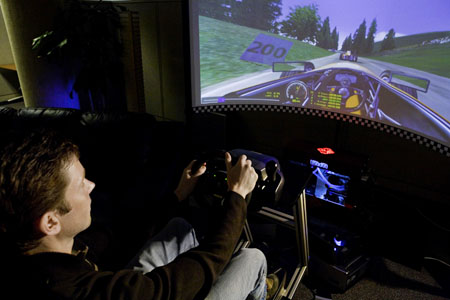 Hey, shouldn't you be teleconferencing?
Now, the curved display, developed by HP Labs and designed to fill the player's field of view, is indeed a technology that would do more more enhance the gaming experience, but HP didn't say when - or even if - this will ever make it outside the laboratory. And then it went on spoiling it all by noting how good the screen would be for teleconferencing.
And that's the trouble. HP is a corporation with a mindset dominated by corporate computing. Yes, it sells PCs and workstations to games developers. Yes, it sells decent PCs to consumers, some of whom play games. Yes, its VoodooPC subsidiary even sells much smarter kit for hardcore gamers. But what the company nonetheless clearly feels most comfortable doing is selling handhelds, notebooks, desktops and servers to big business, and you get the impression it would really rather not get its hands dirty if Dell hadn't done so first.
If HP is so keen on gaming, where is its answer to Dell's XPS line? Why didn't it snap up VoodooPC until six months or so after Dell acquired Alienware?
No, HP doesn't really get gaming. On the basis of what it announced about its gaming strategy this week, it clearly still thinks the height of immersive excitement is a quick bash at Tetris while the boss isn't looking...
Sponsored: Becoming a Pragmatic Security Leader