Orange SPV M700 Windows Mobile smart phone
Is it really any different to the M600?
Review Orange has updated its Windows Mobile PDA phone and whacked another 100 onto its name. At first glance, the only difference is a shinier finish. So what else has been souped up to turn an M600 into an M700?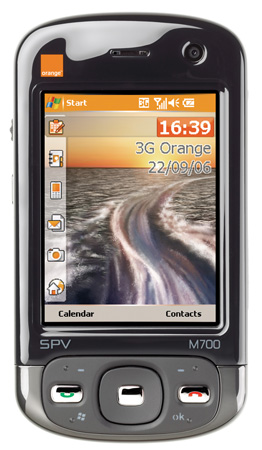 Well, for starters, the 10.8 x 5.8 x 1.8cm, 150g SPV M700 can now handle 3G connections, as well as the EDGE and GPRS capabilities it had before. That 3G support certainly helps with functions such as downloading email attachments and video clips, making it a bonus for business or pleasure. If that was all that had changed you'd be hearing some pretty stiff words from us, because as much as we loved the M600, there are plenty of improvements available with today's technology.
The lens at the top-right of the screen makes use of one of these, adding video calling to the SPV's repertoire. The lens obviously has to be on the front so you can see the other caller and they can see you. However, you can also choose which of the PDA's cameras to send images from during the call, switching back and forth to show them your face or what the camera on the reverse can see.
The biggest change is still to come, though, and it makes the M700 one of the only devices you need to leave the house with. The M600 included Orange's satnav technology but needed an additional Bluetooth device to pickup GPS satellite signals. The M700 brings that technology under its hood as is increasingly common in PDAs and smart phones.
Sadly, it can take quite a while to connect to the GPS signal, especially if you're in a large building or on a moving train. But once it has connected, regular updates of your position and the necessary maps download without any break in service. Audible instructions and a choice of top-down or 3D map functions make it usable whether you're driving or walking. It's just a shame there's no holder to attach it to your car's dashboard.
New to Windows Mobile?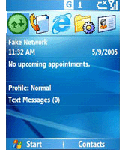 Windows Mobile is Microsoft's system software for handheld devices - phones, smart phones, personal digital assistants (PDAs) and so on. It looks a lot like the PC version of Windows, and the two operating systems can share data, but not applications. Windows Mobile uses applications specifically tailored for it, even though they may have the same names as their PC equivalents. Like Windows XP and Vista, Windows Mobile applications are accessed via a Start menu, but there's no taskbar and Trash icon, and many of the control panels are very different. If you've used Windows XP, Windows Mobile will feel familiar but not exactly the same.
Sponsored: Detecting cyber attacks as a small to medium business