Transcend touts ExpressCard Flash disk
Use for next-gen PCMCIA slot found at last
Want to do something useful with that unused ExpressCard 34 slot sitting there in your laptop? How about turning it into a Flash-based solid-state disk?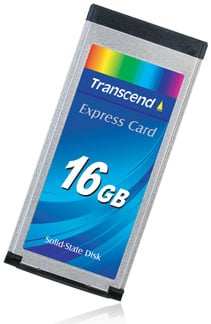 Enter Transcend's 16GB ExpressCard SSD, also available in 2, 4 and 8GB capacities. Slot it in, mount the drive and you're away. Unlike a USB 2.0 add-on, this is a drive you can keep tucked inside your notebook, immediately available next time you need it.
Handy for Windows Vista users, that. They can set the SSD as a ReadyBoost drive on which frequently needed data and application code can be cached for quick access and to keep the hard drive powered down. The Transcend unit uses error-correction codes (ECC) to ensure data integrity, the company claimed.
It doesn't come cheap, mind. Announced in Japan today, the ExpressCard are set to retail for ¥24,000-160,000 ($204-1,359/£103-687/€152-1,016), depending on capacity.