MoD announces air-to-ground upgrade for Eurofighter
Makes superjet useful; doesn't make it cheap
The Eurofighter Typhoon combat jet is to receive a major update, gaining the ability to effectively attack ground targets – a thing it currently cannot do. The UK Ministry of Defence (MoD) announced today that the governments of Britain, Spain, Italy and Germany have agreed to pay the Eurofighter consortium £830m to sort out the controversial wonder-plane.
"The MoD has taken another significant step to equip the Royal Air Force with the capability it requires by signing a contract to transform RAF Typhoon fighters," says the MoD, tacitly admitting that the Eurofighter is not what the RAF requires.
Current Eurofighters – when they finally go operational later this year – will be pure air-superiority platforms, good only for fighting other aircraft using advanced missiles such as AMRAAM. They have taken 22 years to develop. The MoD anticipates a final UK procurement cost of £20bn based on 232 planes for the RAF, which would work out at £86m per airframe.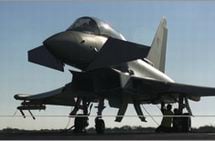 However, the RAF only plans to establish seven Typhoon squadrons, which would mean an operational fleet of 140-odd. The remaining 90-plus aircraft would have to be mothballed if 232 were bought. This has already happened in the past with other RAF planes ordered in excessive numbers, such as the Tornado F3 and the Nimrod MR1.
If all 232 are delivered, the cost to the taxpayer per Typhoon in RAF service would be an eye-watering £140m. Understandably, there is speculation that the partner nations may decide to cancel the third tranche of orders. That would result in the UK getting 144 jets and save perhaps £2bn from the total British bill, leaving individual Typhoons price-tagged at £125m each.
No matter how you look at it, the Eurofighter is a very expensive piece of kit and will need to work hard to justify its cost. But air-to-air combat doesn't crop up all that often nowadays. Military jets spend most of their operational time blowing up targets on the ground. With British troops in Afghanistan calling for airstrikes on an almost daily basis, the RAF will be keen to make sure that its latest toy can get in on the action. The UK's share of the upgrade bill is reportedly £325m, which puts the cost of fixing up each plane at a mere million or two quid, a snip compared to the cost of buying it in the first place.
This enhancement will certainly make the Eurofighter more useful, but it's questionable if anything can make it cost-effective. As a comparison, the UK plans to buy US-made F-35 Lightning II strike planes as well. These planes aren't as manoeuvrable as a Eurofighter, but they can carry AMRAAMs perfectly well. In many ways they're much better than the European super-jet: they'll have stealth, for instance, and probably vertical-landing jump-jet capability too.
The price of a Lightning II? Currently estimated below £55m per plane, less than half the likely price of a Eurofighter. Against competition like this, it'll take more than an upgrade to make the Typhoon look like a good deal. ®
Sponsored: Webcast: Build the next generation of your business in the public cloud