Apple TV-to-SD TV adaptor price cut 40%
Only viable option?
Would-be Apple TV buyers looking to hook the iPod-style set-top-box to a standard-definition telly will be pleased to hear one of best ways of hooking the two up together is now rather cheaper.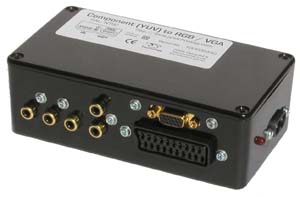 J S Technology this week knocked the price of its component-video to RGB converter from £150 down to £90. In addition to RGB Scart output, the unit can also pump out a VGA signal for a computer monitor to display.
The price cut makes the converter a more viable way of connecting the £199 Apple TV to an old-style television.
How does it work? The converter performs the signal processing needed to change a the three component Y, Cr and Cb signals - brightness and two colour-difference values - into mathematically different red, green and blue (RGB) signals that can be transmitted down a Scart cable. It's the difference between the two types of signal that means you're not going to get a simple pin-to-pin component-to-Scart adaptor.
Incidentally, unless the Apple TV has a 4:3 mode - and there's no sign yet that it does - folk hoping to use the device with a 4:3 ratio TV will need to ensure their set has a 16:9 scan mode or they'll get a vertically stretched picture, video boffins tell us.
John Sim, the gadget's designer, told Register Hardware the price reduction was a permanent fixture as the company prepares to release a second, VGA-only device the supports a wider range of HD resolutions.
The converter is available from J S Technology's website here.