Sony PlayStation 3
It's arrived. Finally. Was it worth the wait?
However, there are some issues with backwards compatibility. Most games will work, and a full list of them can be found here. However, to even get to this stage, you have to update your PS3 system software, as quietly mentioned on an un-important looking piece of A5-sized yellow paper to be found floating in the console documentation.
Improvements to the PS3 software that allows it to play old games is coming with version 1.6 of the console's firmware, due to be released very shortly. Firmware 1.6 not only provides a higher level of PS2 and PSone game compatibility, but also includes support for the Folding@Home protein processing client, background downloading of content from the PlayStation Store, support for Bluetooth keyboards and mice, and adds an on-screen pop-up QWERTY keyboard.
We didn't have a Blu-Ray Disc handy to try the PS3's HD movie playback facilities. Playing a regular DVD, however, is exactly the same as it was on the PS2: simply scroll along the menu system, select the disc icon under the Video drop-down heading and press X. Couldn't be simpler.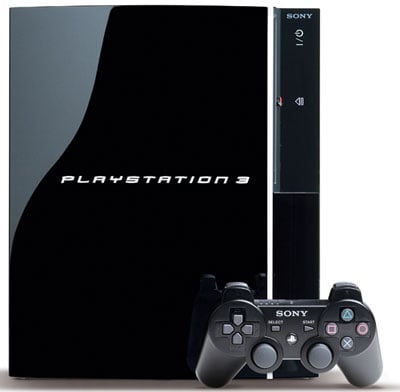 The same applies to accessing the PS3 online service, which offers news, reviews and even an online store. Just hook up the Ethernet cable to your router and away you go. Typing in search parameters can be a little tricky using the control pad to select letters and numbers. For those who so desire a keyboard accessory is available.
For those who have invested in a big-screen plasma or LCD TV with a HDMI connection, this is definitely the way to go. We hooked our unit to an Evesham ALQEMI32SX 32in LCD and were rewarded with a razor-sharp resolution. You can see virtually every blade of grass, bead of sweat and piece of shrapnel flying about in the heat of battle.
Verdict
With a 60GB hard drive supported by one of the best graphics processors ever put into a games console, the battle with the Xbox 360 and Wii for domination of the living room has begun. Although some, it seems, have other plans for their PS3...
Sponsored: Detecting cyber attacks as a small to medium business

Sony PlayStation 3
It's no snip at £425, but it's gonna blow your socks off
Price:
£425 inc VAT - HDMI cable, more controllers cost extra RRP