Sony PlayStation 3
It's arrived. Finally. Was it worth the wait?
The older PS2 controllers won't work with the new console, so unless you purchase another additional control pad - another £35 each - two-player games aren't an option. Another irritation is that additional control pads don't come with their own USB power charger cables, so if you want to charge more than one controller at once, you'll have to pony up another £10. But if you've got a PDA, digital camera, media player or some other USB-connected gadget, there's a good possibility you'll have a spare cable lying around the house: the PS3 USB Power Link cord is just a standard mini-USB cable.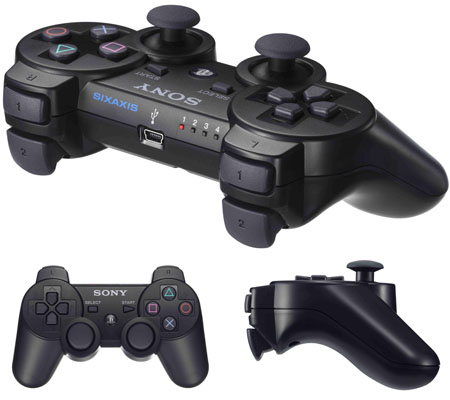 The control pads must be paired up with the console in a similar fashion to pairing a Bluetooth headset with a mobile phone. It's a painless process and any control pads can be paired with any console, so you can still bring your pad over to a pal's house, for instance. Once paired with the console, the controller is assigned an ID number, which appears on four LEDs on the front of the Sixaxis. A maximum of seven controllers can be linked to any one console. However, there are only four LED port indicators on the controller. For numbers five to seven, add the numbers of the indicators shown: four and one, four and two, etc.

The controller closely resembles the old dual-shock PS2 controller, but it has motion sensors on board rather than the vibration system. This enables it to be used as a much more intuitive way to control equipment, such as swords or rackets. Depending on the game, the motion-sensing system allows users to control the on-screen action as an extension of their bodies in a similar way to the Wii wireless controller, though Sony hasn't gone quite as far as Nintendo in encouraging you to wave the thing around with abandon.
Sponsored: Detecting cyber attacks as a small to medium business