PS3 hits UK
Small turnout gets hugely rewarded
You may have waited patiently at the flagship Virgin Megastore on London's Oxford to collect your pre-ordered PS3, or you may have had to wait just a few hours longer as a result of last minute changes to the launch imposed by local police force and councils, as we reported on Wednesday... but now the wait is over.
Sadly, the state of affairs surrounding the UK launch were slightly different to those in Italy where gamers got their hands on the new console two days before anyone else in Europe as local retailers flipped the finger at the consumer electronics giant's launch target of Thursday at midnight.
However, despite controversy over backwards compatibility many die-hard gamers queued at selected stores around the country last night to collect their sought-after PS3s.
Everyone who bought the console at the Virgin Megastore official launch also received a free 46in HD television - a Sony Bravia no doubt - and a taxi home, which we're sure will more than likely annoy all the gamers who placed their pre-orders at other High Street outlets. In total, the giveaway amounted to £250,000 worth of televisons to more than 100 gamers.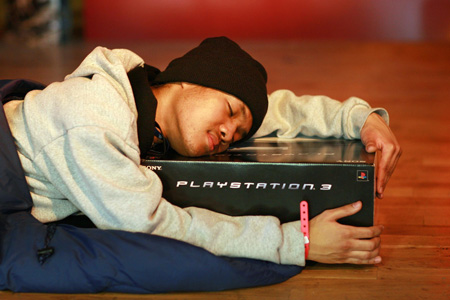 "High definition is very important to people," Ray Maguire, head of Sony Computer Entertainment UK told the BBC.
"A lot of people have bought flat-panel TVs and they want content to go on it and PlayStation 3 is one of the few places they can get that kind of experience."
The TV giveaway in the UK was a reward for gamers' patience, Maguire said.
Register Hardware visited the Virgin Megastore at about 8pm and found as many journos and PRs present as there were keen console customers. We spoke to 17-year-old Ritatsu Thomas (pictured above), who has become something of a small-scale celebrity for being the first person to start queuing, having made camp in the basement floor some 36 hours ago.
To be honest, he seemed more interested in the poker game he was playing with his mates than talking to another member of the press. And who can blame him. When asked if he thought the high price would put off many people from buying the PS3 he said yes, but when the price is inevitably lowered and others see the quality of the games available, the popularity would pick up. At which point he laid down a full house and scooped up the pot... consisting of a Mars bar, some shortbread biscuits and other assorted snacks that had been made available to these very patient members of the public.
The numbers who lined up outside their nearest participating outlet seemed disappointing low around London, with only just over 100 at the Oxford Street launch, shattering the traditional image of an almost-endless line of eager shoppers waiting for the January sales of yesteryear.
Early reports indicate not one high street store actually filled their pre-order lists and so leftover consoles will be available to those who didn't place an advance deposit.
At the same time rumours circulated that Sony would not import another sizeable shipment of consoles for at least six months, making this a shrinking window of opportunity to pick up a PS3. Whether this is true or not, remains to be seen.
Sponsored: Minds Mastering Machines - Call for papers now open