Apple TV undressed on web
Parts exposed
Want to take a peek into the Apple TV? Computer repair company TechRestore laid down the best part of 300 bucks just to take the gadget home and... well... take it to bits, exposing the machine distinctly old-style Intel processor and Nvidia graphics chip.
Here's a peek inside the casing: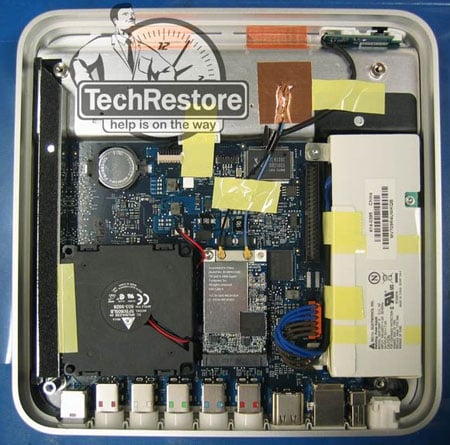 The big white unit is the internal power transformer, with the various ports along the bottom, the infrared receiver and status LED at the top right, and the cooling fan over in the bottom left. Between the fan and the transformer is the plug-in 802.11a/b/g/n card with antenna connection cables running up to the metal plate at the top of the picture.
The processor and GPU are soldered onto the other side of the motherboard. Pics of these - along with plenty more others - can be seen over at TechRestore's Photobucket site here.
All we have to do now is figure out how to connect the Apple TV cheaply to all the widescreen CRTs out there - including mine...