IBM touts novel chip-cooling technique - again
Thermal pastiche?
IBM likes the novel technqiue it's come up with for cooling chips so much that it's announced the breakthrough twice: back in October 2006 and, almost five months to the day, in March 2007.
As we reported last year, Big Blue boffins at the company's Zurich Research Lab discovered that if the upper surface of a chip's ceramic casing is etched with a network of channels, the thermal paste applied to conductively connect the chip to its cooling mechanism - heatsink, fan, whatever - spreads in a more efficient manner. Or, as we say in the trade, it gets thinner.
The upshot: the metal particles suspended within the paste are better able to conduct heat away from the chip.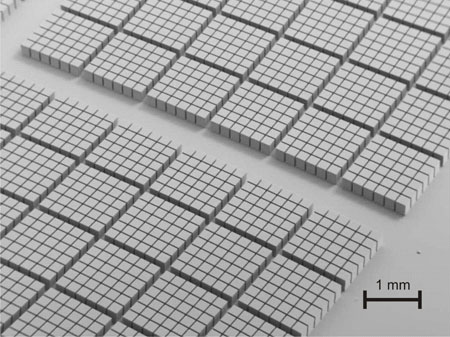 This time round, IBM's researchers also suggest the same pattern of channels be cut into the underside of the cooler, again to ensure a narrower gap between chip and cooler, and so a more efficient flow of heat from one to the other.

There are other benefits, including a reduction in the pressure applied to the thermal paste to squeeze it between cooler and chip. That means the chip's delicate pins are less likely to be damaged. It also makes it possible to use pastes with a higher thermal conductivity value which might otherwise require to much spread pressure to be usable. Again, the use of such paste improves the flow of heat away from the chip.
In turn, that results in chips that can be clocked higher to run faster. Or you can slow down the cooling mechanism's fan speed - reducing its energy consumption - and possibly even switch to passive cooling, IBM said.
IBM is working with third-parties to build tools that can stamp the channels onto chip packages and cooling units.