Fujitsu Siemens readies autumn HSUPA laptop
3G upload speed-boost tech on board
Fujitsu Siemens (FS) will bring the next-but-one generation of 3G network connectivity - HSUPA - to its Lifebook laptop line-up this coming Autumn, making for faster internet access on the move.
FS' slimline Lifebook P7230 is due to go on sale next month with HSDPA built in alongside Wi-Fi and Bluetooth. However, the company said it will gain HSUPA later this year.
HSUPA - High Speed Uplink Packet Access - builds on the current 3G flavour-of-the-month HSDPA, which speeds up downloads over a UMTS network to 1.8Mbps, with extensions to 3.6Mbs, 7.2Mbps and 14.4Mbps coming in due course.
Despite those increases, upload speeds remain at 384Kbps, up from the 3G original spec, 128Kbps. HSUPA works to raise upload speeds, again in stages: 0.73Mbps, 1.46Mbps, 2Mbps, 2.93Mbps and 5.76Mbps.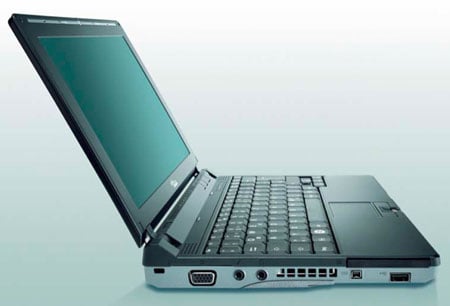 The Lifebook uses Sierra Wireless' MC8780 cellular access module, which provides tri-band HSDPA connectivity at up to 7.2Mbps - carrier support permitting, of course - and supports HSUPA links at up to 2Mbps. Why FS isn't offering HSUPA straight away is anyone's guess - lack of commercial carrier support just yet and the opportunity to position HSUPA as a premium feature, we'd say.
The P7230 is built around a 10.6in screen with LED backlighting for better battery life and superior image quality, and runs a 1.2GHz ultra-low voltage Intel Core Solo processor. It has 1GB of memory and 80GB of hard drive storage. It will initially retail for around €2999 ($3986/£2049).