Ubiquio 701 ultra-mobile PC
The UMPC finally beats the laptop?
Review It's almost a year since Intel and Microsoft launched the Ultra-mobile PC (UMPC) as a new category of handheld computer. Chip maker VIA touted an early reference design, but its offering was quickly eclipsed by Samsung's Q1 UMPC. But the VIA machines didn't disappear entirely and has now popped up again, this time as the Ubiquio 701.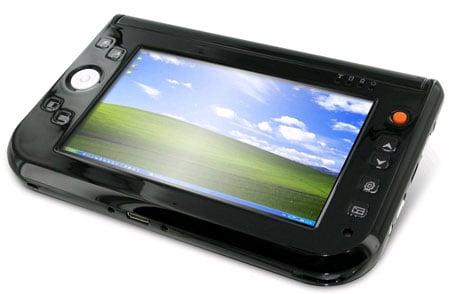 The 701 is a classically styled UMPC, looking like a half-size Tablet PC or a large personal media player. It's decked out in shiny black plastic, which gives it a slightly cheap feel, but all the key features - a full version of Windows, a laptop-class processor, a hard drive, wireless connectivity - are here.
The 701 starts up for the first time with its 7in screen set to a resolution of 800 x 600. It doesn't look right, since it's clearly not the panel's native resolution. A trip to the display properties panel provides two other choices: 1024 x 600 and 1024 x 768. Again, neither are native resolutions. But there's another way of changing the screen size on a UMPC: the pop-up settings bezel, and its screen sizes options are 1024 x 600, 800 x 600 and 800 x 480. Selecting the latter finally presented me with the screen's native resolution.
When I tried Samsung's UMPC, the Q1, last year, I found its 800 x 480 display severely limited: dialog boxes disappeared off the upper and lower edges of the screen to the extent that you can't see their buttons. You can switch to a larger, non-native resolution and view them complete, but they lack the sharpness of the true screen size.
The 701 beats the Q1 one important respect: its mouse control. The Q1 forces you to use either your finger or the stylus. The 701, however, has a button to the right of the screen that works just like the tiny joysticks you see on some laptop keyboards. It'll steer the cursors all around the screen, and you can tap it to click.