Samsung unveils usable UMPC
Q1 Ultra adds keyboard, decent screen
CeBIT Samsung has introduced its second-generation ultra-mobile PC - in one go addressing many of the key criticism of its first UMPC, the Q1. Crucially, the new model, the Q1 Ultra, delivers a higher resolution display and incorporates a thumb-operated QWERTY keyboard.
The handheld runs Windows Vista Home Premium, given room to breathe thanks to a native 1024 x 600 7in display - the original had an 800 x 480 screen. The QWERTY microkeyboard is split into two banks of keys on either side of the screen. Just as useful: the original Q1's joystick can now be used to steer the cursor around the screen, mouse-style.
There's an as-yet-unspecified ultra-low voltage Intel processor on board backed by 1GB of memory and 60GB of hard drive storage.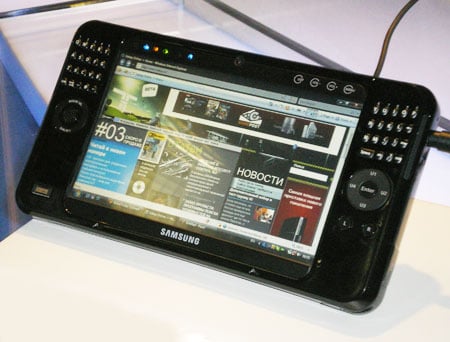 Connectivity comes courtesy of on-board 802.11b/g Wi-Fi, 10/100Mbps Ethernet and Bluetooth 2.0, as before. However, Samsung indicated the Q1 Ultra would also get a 3G HSDPA link for out-and-about broadband.
That said, runtime remains an issue, with the bundled battery delivering no more than 3.5 hours' usage, Samsung admitted. A higher capacity battery will be offered that takes the duration to six hours at the cost of increased weight.
Out of the box, the Q1 Ultra weighs in at 690g and measures 22.8 x 12.4 x 2.3cm. Other features include a 1.3-megapixel main camera and a front-mounted 0.3-megapixel camera for video calls. There's a fingerprint scanner too and 1.5W stereo speakers.
The Q1 Ultra will go on sale in May, Samsung said, but it has yet to decide what the price will be.