Smut set still teaching retail crowd
Pay to play
SXSW The likes of Amazon.com and the Gap still have plenty to learn from pornographers, starting with lesson number one – pay your associate chums well.
Many traditional retailers and even online types like Amazon hand associates who send sales their way a small percentage of the good sold as a result of a link. Pornographers, by contrast, with their massive associate networks that fixate on moving large volumes of user traffic can pay very good money. One could, for example, clear about $50 for pushing a paying customer to a sex site.
"You have to make the payout big," said porn consultant of sorts and blogger John Halcyon Styn, speaking here at the SXSW conference on a panel about how the normals can learn from pornographers. "This is your sales force. You can get people all over the world selling for if you can motivate them with huge cash."
The non-porn crowd seems to view associates as a type of gravy poured over their core online business. They toss a few bones here and there to keep the masses happy.
Pornographers, by contrast, whip their minions up into a frenzy where real rewards can arrive for those able to pry open the wallets of their users. Porn site operators will reward their best associates with prominent links that up the associate's traffic, turning that person or company into a mini-superstar. And the porn operators will even link to rivals, thinking it better to make an associate sale than no sale at all.
Creating an affiliate army could be key to navigating a more competitive online world, according to the SXSW panelists.
They expect independent news and store sites to go somewhat by the wayside in the coming years with networks of sites taking control.
Early examples of such networks are prevalent in the porn world where sites offering access to different kinds of fetishes bond together. That translates into one payment and loads of porn for consumers.
Mainstream types like the Wall Street Journal, Barrons and the Financial Times have tried a similar approach by uniting forces.
The staid set could also learn from the pornographers by choosing function and comfort over ultra-style with their web designs.
For example, take porn-celeb Seska Lee, who films herself swapping juice with her husband and other women and men that happen to stop by the house.
"I have not updated my design since 1998," she said. "It's ugly as sin. I am embarrassed by it, but it works.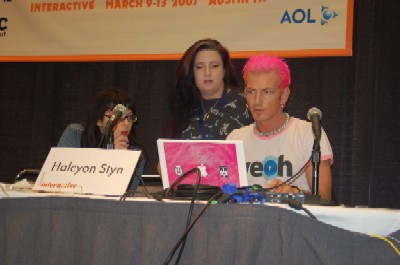 I Halcyon
"I decided that I'm just going to (spend money and effort on) shoot(ing) content because that's what's going to sell. People connect with me because they think, 'She really made that.' If you look slick, people aren't going to connect with you."
Sites that look too professional can put off potential spenders with the customers thinking the company or, um, porn star already has enough cash.
And, of course, the pornographers agreed that the content crowd should do away with DRM (digital rights management) technology.
"Several years ago, that's all everyone in the adult industry was asking about," Styn said. "Then, they pretty much decided universally that the frustration on the consumer end and the loss of sales did not make it worth the amount of lost product sales (to theft)."
Here's us guessing the music and film industry would prefer to make life tougher on consumers and lose sales.
To Halcyon and Beyond
The grandest part of the entire porn panel may have been running into this Halcyon character. We've spent the last few days oscillating between thinking of him as a freak weird creature and a very nice, bright fella.
Halcyon apparently spent a couple of years video taping his "every shower and masturbation session" as part of an internet porn experiment. When not doing that, he organizes a weekly group hug.
The entire world that is Halcyon can be found here. ®
Sponsored: Detecting cyber attacks as a small to medium business