Sony Vaio VGN-UX1XN ultra-mobile PC
Think of the smallest laptop you've ever seen, and this will be smaller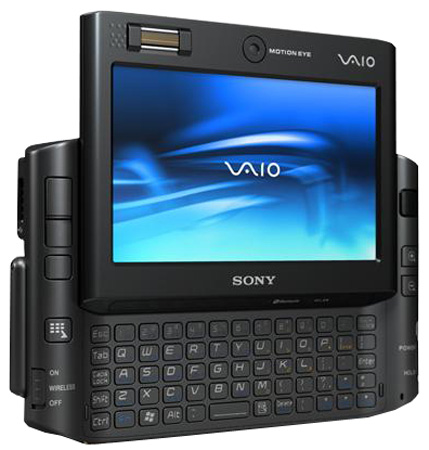 Sony has done its best to fit a usable keyboard into such a small space, but ultimately it's just not big enough for prolonged use. The screen, to some degree, also suffers from the same problem. It would be hard to include anything larger, without increasing the overall size of the unit, but it feels a bit too cramped.
The resolution stretches to an impressive widescreen 1,024 x 600 so you'll need good eyesight if you want a UX1. You can zoom in, but then you'll need to scroll around the screen, which isn't an ideal solution. While the width is adequate, the limited height is a little restrictive. Vista just simply wasn't designed to run in such constrained headroom - you can't display all the Start menu items, for example, and OK buttons are frequently below the task bar on many system dialogs.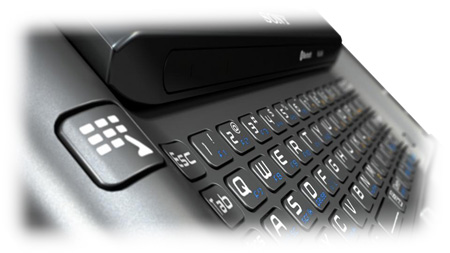 The battery life is also a little disappointing at a quoted 160 minutes, for what is essentially a machine you're likely to carry around with you all day. The UX1 also features two cameras - a 0.3-megapixel model in the top of the screen and a 1.3-megapixel job on the back), fingerprint reader, CompactFlash card slot, Memory Stick slot, Bluetooth 2.0, 802.11b/g Wi-Fi, one USB port, headphone and microphone sockets, and docking station connector. The supplied docking station adds an additional three USB ports, four-pin Firewire, Ethernet, VGA and TV out.
Verdict
There's no denying the UX1 is an impressive feat of engineering, packing a full Vista PC into such a small space. However, its main limitation is its physical size, restricting its usability. It's great to use on the go, but you'll probably want something else as well for more prolonged use. As it costs the best part of £2,000, it's a luxury only the particularly well off are likely to be able to afford.

Sony Vaio VGN-UX1XN ultra-mobile PC
Sony's UX1 is a feat of engineering, but it comes at a price: £2,000 is a lot to pay for a machine just to use on the go
Price:
£1,999 inc. VAT RRP