Sony Vaio VGN-UX1XN ultra-mobile PC
Think of the smallest laptop you've ever seen, and this will be smaller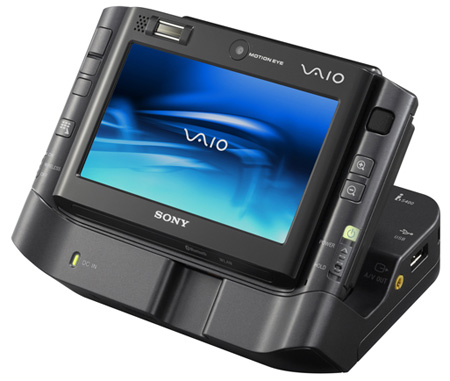 Sony has included a recovery partition, so you can easily restore the OS but it does take up 6.5GB - leaving you with only just under 24GB for storage. There's a utility included to burn this data to DVD - although you'll obviously need an external DVD writer; even Sony's extremely talented engineers couldn't squeeze one inside the UX1 - so if you know what you're doing you could reclaim the additional space.
The 4.5in screen while by no means huge fills a large proportion of the front of the unit. There's a joystick mouse in the top right-hand corner, with buttons to zoom the display below and an on/off/hold switch. Over on the other side are left and right mouse buttons, a button that takes the place of the middle mouse button, a quick menu button, and a wireless on/off switch.
The joystick can also be pressed in to make a selection, which can take a bit of getting used to but once you've mastered it it's quicker than constantly reaching for the left mouse click. If you hold down the middle mouse button, you can use the joystick as a kind of 3D scroll wheel so you can move quickly round large documents and web pages.
The screen is touch-sensitive too - there's a stylus hidden in the back or you can just prod at it with your fingers. For text input, you can either use the included Tablet PC handwriting recognition or there's a full keyboard underneath the display - just slide the screen upwards to reveal it.
The keyboard is only really good for thumb typing, but the two bulges at the back of the unit make for a comfortable grip while you're bashing away. It's not suitable for more than the odd note or web address, though. The keys are barely raised and aren't domed, so finding the right one can sometimes be a challenge and mistypes are something you're going to have to get used to. The keys do illuminate in blue when you press them, though, which can make it easier to locate the one you're looking for.