Hold your breath, save the planet
Bristol boffins answer Branson's challenge
Somebody call Al Gore and tell him he can leave the lights on in his house for as long as he likes: some academics in Bristol have solved the climate change crisis. Oh yes, and they want their $25m prize money from Richard Branson, thankyewverymuch.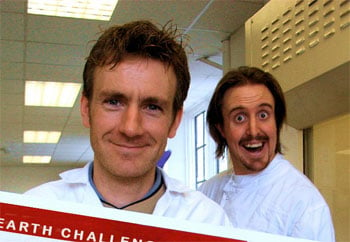 Branson and Gore joined forces at the beginning of the month to offer the cash to the person who comes up with the best way of reducing the amount of carbon dioxide in the atmosphere. The winner, should there actually be one, will have to find a way of removing a billion tons of the gas from the atmosphere.
Now researchers at the University of Bristol have put forward their suggestion: stop breathing.
This idea, while drastic, has the advantage of not costing anything, and requiring no significant investment in developing new technologies. The side effects are pretty messy, though, so the researchers offer a second suggestion: stop breathing so much.
Dr Mark Steer (in the background of the photograph above, in which he is accompanied by his colleague Dr. Andrew Impey) explains: "If we merely cut out one breath in three, we could decrease the amount of CO2 entering the atmosphere each year by a staggering 0.63 gigatonnes. That's the same effect as saving five million acres of land (an area the size of Wales) from deforestation."
As well as averting the mass suicide of the planet's entire human population, this also means heading to the gym is a no-no.
In their press statement, the researchers explain that "the average person exercising at the recommended level of 30 minutes five times a week could be adding as much as 1.3kg of extra carbon dioxide to the atmosphere each year".
Multiplied (quite unjustly, we know) across a global population of 6.5 billion, this equates to a lung-busting 14 million tonnes. Multiplied across the 35 people who actually regularly meet the 5x30 minutes recommendation, it would save considerably less, but that rather spoils the fun.
In closing, Steer does concede: "The amount of carbon dioxide saved by remaining sedentary is nothing compared to what you would save by running somewhere instead of driving there."
The research is published in The Journal of Unlikely Science, a not-so-serious journal, run by the authors. ®
Sponsored: Becoming a Pragmatic Security Leader