Philips, Intel design PDA for medics
Not quite a Feinberger...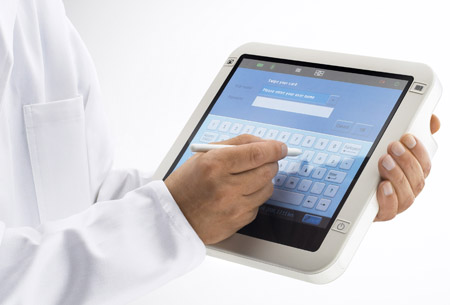 Philips and Intel are to develop a tablet computer for doctors and nurses, in the process creating what they claim is a new category of device: the Mobile Clinical Assistant (MCA). Presumably, Portable Doctor's Assistant* is already taken...
The MCA is built around a 10.4in, 1024 × 768 touch-screen display. An internal investigation reveals Bluetooth and Wi-Fi wireless connectivity, along with the ability to read barcodes and RFID tags. There's a digital camera too, for snapping symptoms.
First Doctor: "This patient's picture - is that a sub-dermal haematoma, d'you think?"
Second Doctor: "No, just a particularly greasy fingerprint."
Ideal for our superbug-infested era, the MCA is a sealed unit, allowing it to be regularly dunked in disinfectant.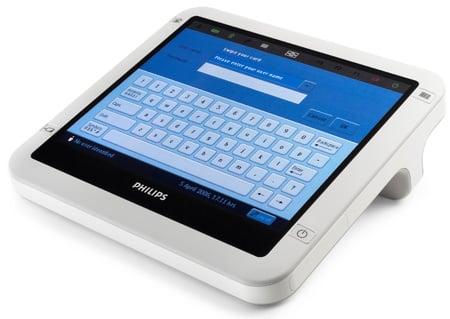 Philips also said the unit sports a "ground-breaking" hand grip on the back to allow medical staff to hold the device for long hours on the tracks. It's engineered for both right- and left-handed users.
At this stage, the MCA is more concept than finished product, but Intel and Philips said their efforts had been based on extensive research carried out with physicians and ward-workers. Production is set for Q4, with clinical trials to follow in due course, presumably.
* No, we don't mean Jo Grant, either...
Sponsored: Detecting cyber attacks as a small to medium business