Intel warming Wall Street once again
Paperwork delays slow AMD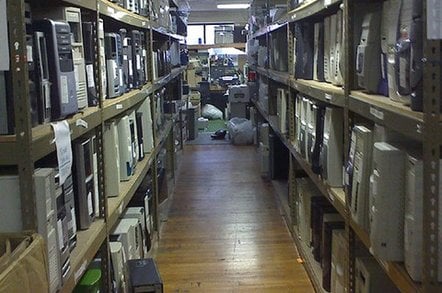 Intel and AMD have embraced a divide and propaganda approach to tout their upcoming server chips. The two vendors today held press events in San Francisco at the exact same time, forcing journalists to pick between the giant and the underdog.
Your reporter opted for Intel's pitch thinking it polite to honor the first invite. Top reporters from the likes of the Wall Street Journal and CNET made the same decision. Not AMD's finest hour from a planning standpoint, as you can tell.
Was the Intel event worth our time?
Well, from a pure news angle, perhaps not.
Intel confirmed that a low voltage (50W) version of its four-core Clovertown chip will ship next week. It also said that a 3GHz version – up from today's 2.66GHz chip – of Clovertown will ship sometime this year. Intel refused to be any clearer about an exact delivery date. Thanks for that, guys.
Intel also promised a new Xeon chipset in the second half of this year targeted at the high performance computing market. The part will have a 1600MHz front side bus and a larger snoop filter, which helps reduce bus traffic by improving communications between different cores and the cache.
Also on tap for "later in 2007" is Directed I/O (VT-d) – Intel's stab at virtualizing I/O on the chip.
Away from the thin news dribbling, Intel's executives proved very accommodating as we peppered them with questions for about an hour and a half.
The company's collection of some 20 Opteron-beating benchmarks prove that AMD will struggle against Xeon for months to come – even when it releases the four-core Barcelona chip – according to Intel's VP Tom Kilroy.
AMD has charged that Intel's benchmarks are unfair because they compare the latest and greatest Xeon against an older Opteron. To that claim, Intel says, "Pah." It always compares against AMD's freshest published results. AMD ought to publish new benchmarks more quickly if it wants to play.
Without question, the Xeon line looks pretty impressive these days, despite Intel's reliance on aging technology such as the front side bus. Intel claims that it now takes 9 out of 10 new server wins on Wall Street – quite the change from last year.
"We were getting hammered badly on Wall Street because we did not have optimization of energy efficiency and performance," Kilroy said.
Intel is also doing better with so-called mega-datacenter customers or those building out massive server farms for their roles as service providers. The company has made customized motherboards for these customers when necessary but doesn't think such work steps on the toes of its server OEMs.
We know some OEMs that disagree.
Kilroy spent time touting improved Itanium sales as well. HP, which owns 90 per cent of the Itanium server market, has pushed revenue and shipments higher, while the likes of SGI and Hitachi still wonder what went wrong.
"There is no question that this played out differently that we thought it would seven or eight years ago," Kilroy said.
Um, yes.®
Sponsored: Detecting cyber attacks as a small to medium business