HTC P4350 Communicator
Simplicity seems to be the selling point
Review The P4350 is a modest device, containing already-proven technology. There's no HSDPA or 3G, just GPRS EDGE; no 802.11n WLAN, just 802.11b/g, leading one to hope that the user concerns of previous models has been ironed out.
Herald attempts to deal with a basic conundrum facing mobile device designers: reading documents is optimal on a page-oriented portrait screen, while data entry (at least in the West) requires a keyboard, which forces the screen to be in landscape mode. Herald solves this by adding a sliding keyboard to what's primarily a pen input device, the screen and device rotating 90 degrees. It's an approach taken by the more fully featured, but larger, HTC Wizard, and it has its merits.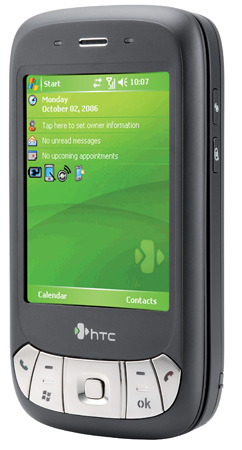 At 109x59x17mm the P4350 is an agreeable size for what in essence is a tablet device, although it feels extremely heavy: at 168g it appeared to be made of some extremely dense, heavy material originating from outside our Solar System. It certainly felt heavier than the advertised weight.
The 320x240 screen supports 16 million colours, although our unit only reported 65,000 colours, and expansion is possible via a MicroSD slot. As already mentioned WLAN is supported, but not 3G, although Bluetooth 2.0 finds its way into the device. Physical connectivity is provided by HTC's USB implementation, ExtUSB, which supports audio in addition to data transfers. It also sports a 2 megapixel camera, taking acceptable pictures in daylight but useless in darkness.
Sponsored: Detecting cyber attacks as a small to medium business