Aussie outfit to ship wristphone next month
Can SMS Tech succeed where Samsung, DoCoMo failed?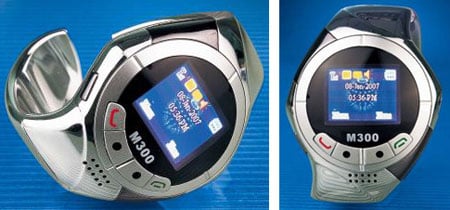 Many, many wristphones have been announced, but few if any have come to market. According to Aussie company SMS Technology, that will change next month when it ships the M300, a tri-band GSM/GPRS wristwatch phone, in its native land.
The phone sports a 1in colour display, contains 64MB of memory and incorporates Bluetooth 2.0 connectivity. It has an MP3 and MPEG 4 media player on board too, SMS said. The company claims the watch delivers up to 3.33 hours' talk time and 80 hours in stand-by mode.
SMS' launch target is Q1 for Australia - the M300 will cost AUD650 ($510/£261/€388), it said - with overseas availability coming in April. It expects the device to ship in the UK, Denmark, Norway, Germany, Spain, Sweden, Belgium, Holland, Switzerland, Italy, Austria, France, Portugal and Poland on 25 April.
But it doesn't end there. SMS is planning a follow up the M501, a version made from gold and titanium, which it's hoping to ship in June. Five months later, in November, it hopes to have a business-centric version, the M700, on sale. The M700 will support "Outlook and Office synchronisation", SMS said, though we're unsure how much value there'll be in viewing Excel spreadsheets on a 1in LCD...
We wish the company luck. Past attempts at shipping a wristphone have failed, most notably Samsung's offering, announced in May 2003 but killed off long before its planned December 2003 release. Japan's NTT DoCoMo announced the Wristomo wristphone about the same time as Samsung unveiled its product. Wristomo too seems to have never made to market - if it did, it didn't stay there for long.
Sponsored: Detecting cyber attacks as a small to medium business