Readers rate Nokia's free Smart2Go satnav app
Have your say
Chris Gent
Just to let you know that I took the plunge and risked killing my phone by installing this software on my N80 - along with approximately 90MB of UK maps - and it looks pretty nifty especially considering it's free. I tried planning a couple of routes across the country and they came out about looking about right.
I haven't tried any of the real-time navigation stuff with a GPS device though.
David Reeves
Downloaded Smart2go this morning and it really is rubbish. I've been using Wayfinder on a WM5 phone for a while so I know how these things should work. Within the first 30 minutes of use, large sections of the maps don't show, even though I have downloaded the maps using the maploading program. Routing doesn't work. The progress map gets to 95 per cent there and then freezes - I have to Cancel to get out.
Tried to look at the upgrade to navigation and the program crashed. I have a HTC TyTN which generally gets a reboot about once a month, so far today I have rebooted it five times! I had high hopes for this but so far it's not looking good :(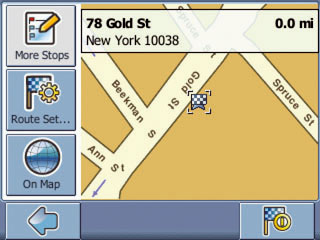 Steve Evans
Oh well, I thought it was worth a punt... Noticed that all the E and N series downloads seemed to all point to the same file, which just had S60 on the end of the filename... Seeing as my N70 is an S60 phone too, I thought I'd try it.
Unfortunately, all I get is "file corrupt" when I try to install it. So either Nokia has messed up its late arrival, or it's chosen to forget all the really old phones in an attempt to make us upgrade.
Gavin Hutsby
I'm just instilling the Nokia navigation app to my N73 now - should be interesting to see how it performs alongside TomTom Navigator 6, although the navigation function looks like it might be a chargeable upgrade!
Mind you, I'm still waiting for the thing to install. I put it on the phone 20 mins ago and its only halfway done!
David Roy
According to my N70 - admittedly not in the list of supported models, but still... - [the download] arrives corrupted, so the phone has refused to install it. Shame - I'd like to see what the software can do.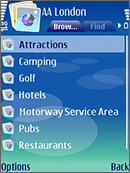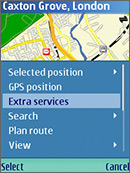 Josh Murray
I've just downloaded and installed Nokia Smart2Go on my N73 (3 X-Series). It took a while to install, and initially start, but it works well otherwise.
I'm currently in a 2.5G area and the map for my village took about 45 seconds to download. I'm not sure how much data it's transfering when it's getting new maps. I'm glad I'm on a flat rate plan! I can't find any info on how much it downloads, but I'd like to hope it's not much.
Daniel Jackson
Thought I'd give this a go - you can't argue with free stuff!
Downloaded it, copied it to my N80, ran the installation and 13 minutes later I'm still 50 per cent through the installer. Setup hangs and crashes File Manager.
Oh, but wait - just before I was going to hit the Send button a burst on the progress bar! 25 per cent to go!
... sometime later ...
Two per cent left.
... even later ...
All done, although it's still "installing".
Holy Moly, 24 minutes to install!