Readers rate Nokia's free Smart2Go satnav app
Have your say
Reader Review When Reg Hardware covered the no-show and then the late appearance of Nokia's free navigation software, Smart2Go, we invited readers to download the code and give it a test drive. Rather a lot of you did, and here's a selection of some of your experiences with the app on a range of handsets...
Steve Smith
First thing to get out of the way: this is a first-day test of beta software. My review is based on my personal experience. Second thing, it's free. For this reason alone you should go get a copy and have a play.
The currently supported devices are: Dopd 595 and 838; HTC MTeoR and TyTN; Nokia E61, E70, N73, N80 and N93; O2 XDA Trion; Qtek 8300, 8600, 9100 and 9600; Palm Treo 650w (700w?); T-Mobile MDA Vario II; Vodafone Compact III; and, finally, Generic Windows Mobile 5, this is the one I downloaded for my XDA Mini S.
I chose to download via PC and install from the memory card, but there is an option to do it over a SMS link but at 5MB this would be a bit steep for anyone not on an unlimited data package. Once downloaded installation was straightforward, but slow. Be warned the 5MB file unpacks to 20MB on the card once installed, and that's without maps or voice files.
After starting the app for the first time, it also installs a 500KB licence manager program which is needed to upgrade to the full navigation package.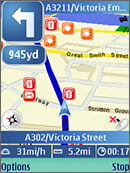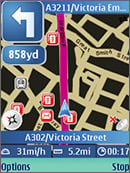 Pairing with a Bluetooth receiver is easy and the program will automatically search for a receiver if it can't find a built-in one. I have used both a SiRFStar III-based HOLUX 240slim and a generic (ie. cheap from eBay) receiver – based on the Trimmble FirstGPS chipset - and Smart2Gp had no problem talking to them with no need to set baud rates or comm ports.
Warning When you first start to play with this you should be connected to the internet by Wi-Fi or Active Sync as it will have to download some maps to start with and this sucks megabytes fast. However, once you have used it once you should be able to use the Nokia Maps Manager app from the Smart2Go website to download the rest of the maps you need.
When you start to navigate for the first time, the app will ask you to set the language and download the voice files (2.6MB). When it downloads, it shows how much it is downloading (for the maps) and how much in total (ie. for the voice file). This should help keep you reasonably informed as to how much data is being sucked up.
I'm dreading my bill now as I did all the updates over GPRS.