Good Mobile Messaging 4.9 push email client
Very 'Berry?
Review Whether push email really does improve office-worker productivity is open to question, but there's no doubt that it's become a must-have. There are few smart mobile devices that don't enable its delivery, whether by bundling Research in Motion's BlackBerry Connect software or one of the handful of competing applications.
In addition to RIM's signature BlackBerry handhelds, many Windows Mobile 5.0 devices offer push email as standard, and Nokia, Sony Ericsson and co are all keen to bundle the aforementioned apps with their business-oriented handsets.
But while all these providers' offerings will end up in hands of individual users, the devices and software tend to be pitched at business' technology providers, whether in house or out. Product marketing tends to focus on a given product's benefits to the IT manager - think inventory management, over-the-air software provision, remote security lock-down - rather than how well they help users get to the information then need, quickly.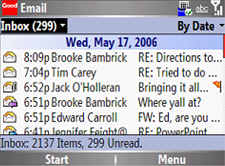 So, in an occasional series, Register Hardware will be investigating how well the major push email offerings co-operate with a variety of mobile devices to deliver email and other personal data to the user. First up, one of the biggest enterprise-oriented email software providers behind RIM: Good Technology and its newly renamed Good Mobile Messaging (GMM) product. Late last year, Motorola acquired Good, which is now known as Motorola Good Technology Group.
Installation is simple enough. Navigate to Good's download site - get.good.com - and get the software. The system sends over a setup app that grabs the correct version of Good Mobile Messaging for your device and pulls down all the relevant components. During the installation, you'll need to enter the PIN you've been supplied with, your email address and the phone number associated with your handset - write this one down before you start, if you haven't remembered it yet.
I tried GMM initially on a Nokia E61 running on the Vodafone 3G network. The setup app was a 175KB download; GMM itself weighed in at just over 2MB, so make sure your data tariff's up to it.