Asus flows in water-cooled GeForce 8800 GTX
Overclocked, of course
Asus has announced an Nvidia GeForce 8800 GTX-based graphics card overclocked from 575MHz to 630MHz thanks to a built-in water cooling system. The new card, which will ship under the AquaTank brand, ships with 768MB of GDDR3, likewise clocked above the standard 1.8GHz effective to 2.06GHz.
And there's headroom to drive clock speeds higher, it seems. As it stands, the card is 12°C cooler than "generic" 8800 GTX cards, Asus said.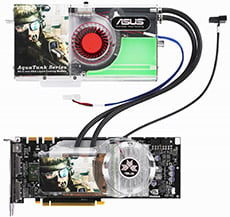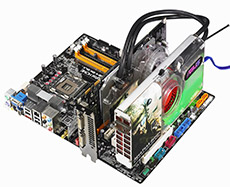 The EN8800GTX AquaTank/HTDP/768M itself is a two-slot card, but the water cooling module takes up a PCI slot too.
Asus didn't say when the new card will be made available.